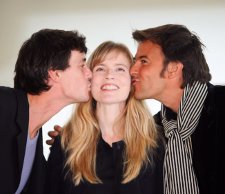 Louis Ronan-Choisy, Isabelle Carré and François Ozon in San Sebastian Photo: Gorka Estrada, courtesy San Sebastian Film Festival
François Ozon's Le Refuge finally makes it off the festival circuit and into cinemas across the UK this week. The latest film from the prolific French director is a small-scale drama focussing on a heavily pregnant drug addict's relationship with the brother of her dead lover.
Isabelle Carré, who was pregnant herself during the shooting of the film, stars in the central role, alongside Louis Ronan-Choisy. Ronan-Choisy is best known in his native France for his singer-songwriting prowess. Le Refuge marks his first screen role - and it is an emotionally complex one which also involves issues of bisexuality. But it seems Ozon was determined to find a non-actor to take on the role.
Speaking about how the pair met, Ronan-Choisy says: "I invited Francois Ozon to a concert because I love his work. Francois asked me to come and do some tests because he was looking for someone who wasn't a trained actor. What Francois asked me to do, once he'd decided to give me the role was to completely learn the dialogue but not to add any acting to it - to leave it very neutral."
It's certainly a piece of direction that pays off as the 33-year-old brings a natural and believable fragilty to the role of Paul, who is facing issues from his own character's past. But was it difficult to go from being a solo artist, to taking on the role of a team player in the film?
"Normally, as a musician, I hire people to work under me and so I'm a bit like Francois Ozon where I have to trust my judgement in terms of what I want them to do and edit out mistakes and things like," he said. "So it was a case of giving myself entirely Francois and trusting him that he was going to use me correctly. So I swapped roles and my trust was implicit."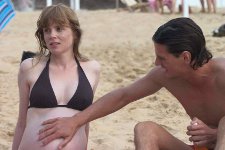 Carré was pregnant during the film - a move that Ozon has said he wanted to act as a "counterpoint" to his previous film, Ricky.
Last year at San Sebastian Film Festival, Carré said: "It was my first pregnancy so I was in an emotional state that was quite special. I felt like feeling the scenes very quickly so that I could take a rest."
So, how was acting against Carré for Ronan-Choisy? "Everybody was very tender towards her so there was a sense of the whole crew trying to protect her and looking after a newborn child," he said.
"Because Isabelle herself is profoundly kind and generous as an actress, I based my own acting on hers. So I would follow her rhythm and mood."
And it wasn't just Carre who found the shoot tiring. Ronan-Choisy wrote the soundtrack as well as starring - a decision that turned out to be tough.
"When I write my own music some of it is biographical, but I try to open up my ideas to other people to make it as accessible as possible to other people, so it wasn't too difficult to imagine writing the music as inspired by the character. But what was difficult was that I had decided to compose the music during the shoot. And I had underestimated how difficult the shoot would be. So at the end of each day of shooting I would turn up in front of my piano really exhausted."
Although Ronan-Choisy enjoyed the experience, he is now turning his attention back to his music, with new album Rivière de plumes (Feather River) to promote. But he adds: "I would work again in a film if it was one I felt really strongly about, because the amount of commitment is huge."
Share this with others on...