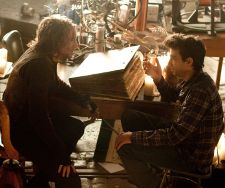 Nic Cage and Jay Baruchel in the film
A group of Edinburgh cinemagoers got a treat last week, when the star of The Sorcerer's Apprentice came to town to take part in a question and answer session after the film had screened. Jay Baruchel plays the apprentice of the title - an unsuspecting physics student, called Dave, who finds himself caught up in a battle between good and black magic as he and his mentor Balthazar (played by Nicholas Cage) try to quash Merlin's enemy Morgana Le Fey, once and for all. Here's what the tongue-in-cheek Canadian said about the film.
You've said that you're a self-confessed geek - so is Dave the geek's dream role? When you get the script and read "Shoots plasma bolts", do you think, "I'm there"?
I've been groomed my entire life for this. My entire career has led up to this... all I've ever wanted to do is shoot energy out of my hands and save the day. I also like falling down and physical comedy and got to do a bit of both here. But, who doesn't want to be a super-hero and kill Morgana?
A lot of actors say that they find special effects movies a bit tedious and tiresome because you're really acting with things that aren't there. Did you find that, or did you enjoy it? How do you cope with special effects on this kind of scale.
I guess a lot of people might take issue with it but I have a really fertile imagination. I've always been a pretty chronic daydreamer so I needed no direction with that stuff. Every time they'd say, "All right, so there's a dragon chasing you and you can shoot energy from your hands," I was, like, "I'm way ahead of you." So that stuff was embarrassingly easy for me.
What did you you have to do to prepare to play Dave?
I didn't train or anything, I can't stress enough that I was ready to go. It's amazing, but I grew up playing Street Fighter 2 so all I've ever wanted to do was that. But I should wear pads on my back more often. Particularly in the training sequence when I get electrocuted. Well, let's just say I put too much mustard on it. I threw myself down a lot and was making everyone laugh. So I threw myself down on the ground more and everyone applauded. Then it was a wrap and the director, said: "That was great, Jay." and I was, like, "Awesome, everybody" and then as I walked off the set, I lost about two feet and spent the rest of the evening like a 70-year-old woman with sclerosis. And I thought, it just isn't worth it. Why didn't I just wear more pads. It's just stupid male ego stuff. Even someone who looks like me is at the mercy of a fragile male ego and stubborn.
When we were making Tropic Thunder, I gave myself tinnitus because I was too stubborn to wear earplugs when I was firing a machine gun. There was one particular scene where I have to fire it close to my head and they said: "You realise we're indoors and this is really going to hurt." and I said: "No, I'm fine." And I did it and I went blind and deaf. It was like something out of Saving Private Ryan, where all I could see were people mouthing words. And I was too shy and embarrassed to tell people or to admit to them that I was wrong, so I just waited for Jack Black's mouth to stop moving, said my line really loudly and then walked away and then refused to wear earplugs for the rest of the day and kept doing it. Which is just stupid. So, everybody, don't be a cowboy, just wear earplugs and pads. Really.
Presumably Nick Cage got cast first, I don't know why I would assume that...
Because he's the most famous human being on the planet.
So, when they cast you, were they looking for someone who would work well with him, someone who resembles Mickey Mouse, or what?
I don't know what they were looking for - hopefully me. I worked for Jerry Bruckheimer once before on a TV show - they only Bruckheimer show that wasn't on for a decade and a massive hit. It got cancelled. But I was his choice and he said: "This kid might be good." The director said: "I have no idea who that is, so he can come in and read." So I came in and did two scenes for them and they said, "Do you want to be the Sorcerer's Apprentice." And I said: "Hell, yeah, what else am I doing?". You make it sound far too easy. Oh, it wasn't easy, it took half a year to make this but the audition process wasn't half as horrible as it has been in the past.
When you first saw the finished film, did it look how you imagined it would.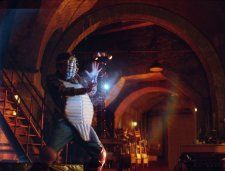 I got goosebumps. I grew up watching The Neverending Story, Ghostbusters, Back To The Future - anything awesome - and I got to see myself save the day, and my friends from a gigantic dragon and, it's the God's honest truth to say that it knocked the wind out of me. I was really, really psyched and happy with it. The weird thing, though, the first time I saw it, about 20 minutes before, I had cut the back of my head open on an air-conditioner. So the first screening, I was clutching a wad of bloody tissues to my forehead and I might have had a concussion... so that might have had something to do with the goosebumps. But, I was real happy and pretty proud of it.
Is Nicolas Cage your favourite actor?
he is definitely one of them. I distinctly remember sneaking in to Con Air when I was 15 years old and years later I'm saving the world alongside of them. He's really cool, I'm a huge fan of all his movies and the fact that I'm in one is like a dream come true.
You say you're a geek and you like playing Street Fighter. Do you still play computer games and what's your favourite one?
I live with two of my best friends that known each other since we were 14 and we play a bunch of video games. They play Call Of Duty and I'm terrible at it. I play two games, I play one game that no one outside of Europe plays - Football Manager or Championship Manager - and the same makers of that game made something got NHL East Side Hockey Manager. Of course, they only made it for one year because I'm the only person that ever bought it. So everywhere I go people say, "So you're a gamer" and I tell them, "You don't understand, what I understand by gamer, I watch dots kick a ball back and forth."
Do you think you'll ever play a bad guy?
I'd do it in a heartbeat, those parts are always the most fun. It's kind of weird, I have two careers - one in Canada and one in the States. In the States I get hired to do this kind of thing and in Canada I get to do all sorts of stuff. And in the last film I made in Canada I get to play a questionable sort of dude. It's called Good Neighbours - it's not a whodunnit it's a whosgonnagetit. It's three questionable people who live in a building together. Bad guys are great to play.
Who is your favourite actor you've ever worked with?
You're killing me. But I got to be directed by Clint Eastwood in Million Dollar Baby and to work alongside him. And still to this day, Clint's the only man I've ever worked for or with that my granddad, were he still around, would be impressed by. At all. So I guess it's kind of hard to top Clint.
Share this with others on...