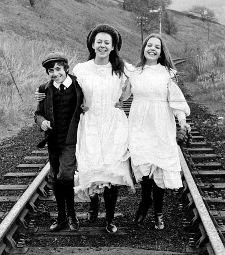 Jenny Agutter and her fellow stars in her breakout role in The Railway Children
A confident woman in her fifties with elegant clothes and a distinguished theatrical career, Jenny Agutter is that rare thing, a child actress who has successfully kept her career alive - and kicking. She's starred in a great variety of film and television roles, from The Man In The Iron Mask and The Riddle Of The Sands to Logan's Run and The Six Million Dollar Man, yet what she is remembered for most fondly is Lionel Jeffries classic The Railway Children. As it makes ready to return to cinemas, I asked her if she ever imagined it would be so big.
"When you're making a film you don't know a thing about what's going to happen," she cheerfully admits. "You just have to hope for the best. But not many films have enjoyed that level of success. Lionel Jeffries made a lovely piece of work and we had a huge première in London. We enjoyed a lot of positive attention from the critics and from the public and we had fun. It was lovely to be involved with such a success. But it didn't really shape my career at that stage because then, when I was 21, I went to America where no-one knew The Railway Children at all. I didn't really hear much more about it until I came back 20 years after making it and it was the first thing people asked me about."
She's clearly amused by this situation, but also very happy about it.
"At that point I realised, of course, that it had come out on video and it was shown on television as a classic. I don't know quite how it all happened. E Nesbit's book is a wonderful story book - it hasn't been out of print since 1905. Lionel Jeffries adapted it wonderfully and gave it, I think, a clear sense of the innocence of Edwardian life. It might have helped that he always seemed a bit Edwardian himself, very eccentric and grand. He was a man out of his time."
She reminds me that there's now a new digital master of the original film and the DVD will be coming out in May. It's also going to be back in British cinemas over the next week. But is this strictly to appeal to nostalgic adults, or does she think that today's children will also find something special in it?
Her answer is slow and thoughtful. "I think in the 40 years that have gone by since it was made there have almost been more changes than there were in the 60 years between the book coming out and the film being made, despite the two world wars that took place during that time. A lot has changed about the way we view innocence. Children today are very different. When I was 17 I still felt very young, but 17 today is quite sophisticated. Still, I think at the heart of it The Railway Children is a family tale and that's something children will always be able to latch onto. It's a story about children whose father has gone away and they have to face the world by themselves and play games and explore and find out about things. I think that's something a lot of children can relate to."
It must have been strange for her, I suggest, having spent her childhood living in lots of different places and then worked for years in America, to be so strongly associated with something so quintessentially English.
"Yes," she says. "It's a lovely association. But because I was separate from it for so long, it didn't really affect my identification for work. Doing such varied work is what every actor hopes for and I think I've been quite fortunate. I've always looked for things that are different, different roles to explore."
Despite, or perhaps because of, the innocence of The Railway Children, Jenny's character was a first crush for many young viewers, and her subsequent work only solidified a strange sort of sex symbol status. She laughs when I ask her about this. "You are whoever you are, and it's hard to identify with how other people see you," she explains. "I think what some people find so provocative is that combination of virgin sexuality and innocence, and of course a lot of young men still have this idea that I was waving my knickers on that railway line, when it was a red flannel petticoat! Then of course I was in An American Werewolf In London but I don't think my character, Roberta, was a sex symbol, she was just a good egg. She was lovely, a strong character. But she wore a nurse's uniform and that seems to be quite sexy for many people."
Jenny has recently been working on two new films, mystery thriller Act Of God and black comedy Burke And Hare (about the famous Edinburgh murderers). I ask if this represents a move back into film after several years spent concentrating on TV work. Perhaps not consciously, she says, but she is interested in doing more films. Her son is now grown up which gives her more flexibility as regards commitment to intensive projects. But she's glad to have had the chance to appear in some high quality television drama, including a soon-to-be-broadcast episode of Skin Deep.
"That was an interesting role because I play someone a few years older than myself who's contemplating what it is to be getting older, and that's something I suppose I've been putting off; I hadn't previously thought about it at all. It's strange to be in your fifties and still be thought of as a railway child!"
Share this with others on...