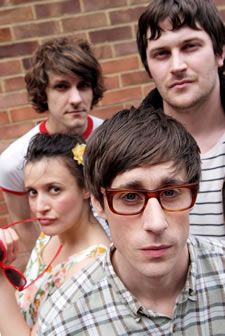 Clockwise from bottom right, Ian Bonar, Lyndsey Marshal, Mathew Baynton and Kieran Bew in 1234
You might think that raising a budget, shooting a film and getting a positive response at a renowned festival would mean that the hard graft of filmmaking would be behind you, with distributors' purse strings loosening fast. But the gap between making a film and actually seeing it reach 'ordinary' audiences around the world can be a big one.
Look at Precious, for example, Oscar nominated – and now with a slew of Spirit Awards - and yet it took a year from its Sundance to make its way to UK cinema screens.
What hope then for home-grown talent? Well, it's certainly not easy, as Giles Borg's debut 1234 aptly demonstrates. I spoke to him back in October 2008, when his film premiered at London Film Festival – and subsequently screened in the 'pick of the fest'. Yet it is only now that he is finally getting to see it screen to wider audiences, courtesy of Soda Pictures' initiative, New British Cinema Quarterly.
Catching up with him in the middle of shooting his latest feature Flutter, I ask him if he ever worried that 1234 would never make it to cinemas.
"Yes, a lot," he says. "We did choose the worst time in the history of motion pictures making to try to release a film - a week after the biggest banking crash in the last 100 years. But, as time went on, I got increasingly worried that it would never see the light of day. And there was a point last August, when I had three projects on the go.
"I had the release of 1234, this film I'm shooting now and we were trying to get development money from the UK Film Council. And I remember saying: 'If all three fail to come off, my life is a disaster. But if all three came off, my life would be brilliant.' Amazingly, all three came off… the downside being, they all came off at exactly the same time.
"People were saying to me all along that shooting your film is one thing but getting it out there is the hard bit and I remember thinking while I was shooting and that was tough, don't be stupid, nothing can be as hard as this – but it is. The thing I've really learnt from this film is that getting it out there is the hard bit. It's never been easier to shoot a film but getting people to see it is the tricky thing."
For Borg, it's not just cinema where the problem lies, but that small screen in the corner of our living rooms.
"TV is the really difficult one at the moment," he says "If the BBC and ITV were buying and showing more British films, that would help a lot."
Even though 1234 – a charming comic tale about the trials and tribulations of an indie musician (Ian Bonar) dreaming of band success and romance with bandmate (Lyndsey Marshal) – is only just making it to cinemas, Borg's career is on the up and up.
When I spoke to him back in 2008, he was far less financially secure than he is now.
"The thing that makes me laugh is I remember thinking of all the times I've watched Film 2008 or whatever and there would be someone on there who had just made their first film," he told me as he prepared to premiere the film in London. "And apart from being really jealous of them, they always used to say: 'It's great, but I'm really broke at moment.' And I used to think: 'Rubbish!'
"But I can happily confirm that it's absolutely true, I've never been poorer than I am now in my life. We ran out of money to pay ourselves ages ago and haven't been able to do any work because we were finishing the film off, so it's proper bread and water at the moment."
Times then, have changed, especially given that his latest film is a much bigger budget affair, starring a host of well-known names including Billy Zane, Ricky Tomlinson and up-and-coming star Joe Anderson – who is currently enjoying good box office courtesy of The Crazies.
Borg laughs when I mention the 'bread and water' days, adding: "I'm not exactly rolling in it but at least I can afford to buy more than value baked beans now."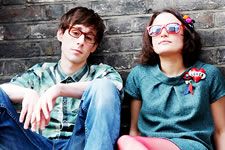 "It's hugely different," he adds. "The budget is almost 10 times that of 1234, which is interesting. When we turned up for 1234 we had three trucks and I turned up here and there were 15 trucks and a big catering wagon. I have a car to take me to set – as opposed to 1234, when I got a bus a train and a bus to set every day."
Back when he shot his first film, financial constraints were at the top of his mind and that of producer Simon Kearney – and it took a leap of faith.
"I've been writing feature scripts for quite a long time now and we've got quite a stack of them now as a company," he told me back in 2008. "It was something I had always intended to do but it was how to get round to it. So I made a lot of short films. You do those because they're fun and you're learning from them, but always in the back of your mind you hope someone's going to see one and say: 'Wow, he should make a feature'. But you realise, probably that's not going to happen, unless you're Andrea Arnold and you win an Oscar for it. The only way it is going to happen is if you get off your arse and do it yourself.
"So Simon and I looked at what we thought we could raise realistically for a first-time producer and first-time director and then thought what we could write that would fit in with that. Originally we were working on a completely different script and I was going to work one day and I was thinking about bands because I was rehearsing with one at the time. And it suddenly hit me – I thought that's what I should be writing about because it's what I know, it's what I love and also it fits perfectly with the budget for a low-budget drama because it's four people in a room arguing. That's how most band practices are. And as soon as I began working on that it all became clear that that was the way we should go."
Borg knows a thing or two about band life – having been in a succession of them.
"I've been in bands for years and years," he said, adding, "very unsuccessful bands. I have the horrible feeling that I'm the thing that links their lack of success.
"As well as doing that I used to do pop videos for bands and did one or two tour documentaries. So back in the Nineties I worked with bands like Ride and things like that. So I've always known and been around musicians and I've always thought, especially when I was practising at some dreadful rehearsal room somewhere with another terrible little band that it's just a fantastic world.
"I like the horrible little venues where there's graffiti all over the walls and that smell. I prefer those to bigger places. And I thought it would be nice to get some of those feelings out on film because I'm sure other people must love these venues. You know, the really nasty little, tiny ones that still manage to survive 20 years later."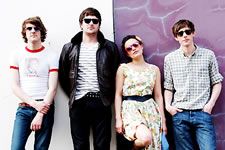 He adds: "I was basing it, to an extent, on people I knew, although I didn't want to do that to such that extent that it just became about one person. And at the same time I was trying to go against the convention of films about bands. You've got Spinal Tap at the top – which is the greatest film about a band on tour, and is so horribly accurate, and I wanted to make sure we avoided any of the clichés that have come about after that, one of them being that drummers are always mad, drug-crazed loon type figures.
"I thought, I don't know really any Keith Moon drummers. I know lots of drummers who are in their own little world a bit. I wanted to make them like real drummers. It's very easy when writing scripts not to be writing about real people but to be writing about film people. You're writing 'film characters' rather than 'real characters' and it's something I'm constantly having to look at going back over my stuff to make sure that that person really could exist and isn't just a film cliché that seems to fit."
1234 acted as a calling card for Borg and led to him being contacted by producer Sarah Booth about Flutter – a gambling film she'd been trying to get off the ground for a few years.
"It's a kind of update on the Faust myth," he says. "So a new bookie, a woman, turns up at the racetrack and they start betting with her and when they start losing she starts introducing new forms of bet… things they have to do themselves. And it all gets quite dark and bizarre."
It seems the darkness may be something that Borg had a hand in, since, when he first laid hands on the script he found it "really brilliantly plotted" but "a bit too much of a comedy for what I thought I could do". He asked if he could take a 'pass' at the script and make a few changes – and everyone seems to have been happy with the result.
"I can't take away from the writer, Stephen Leslie, because it's an amazing, tightly plotted script," says Borg. "But I think because I got to change it in a few ways, I now do feel much easier working on it."
He adds: "Production designer Richard Bullock and the DoP Chris Ross are doing the most amazing work on it – everyone is really pleased with the rushes. We've got two more weeks of shooting – I can't believe we only have two more weeks left. Then it'll be another three more months in the edit so I reckon we'll be done in the summer."
And Borg is already looking forward to his next project. Back in 2008, he told me about a France-set film called A Girl And A Gun but it seems that's still some way off. The more immediate future will see him working on his development deal with the UKFC, a film called Albion.
"It is kind of like 1234 in that it's a small film," he says. "It's all set in the world of archaeology. It's about experimental archaeologists trying to build a iron age roundhouse in the countryside. I think it's going to be quite fun, it's about notions of home and identity but mixed up in, hopefully, quite a light and amusing script."
For now, cinemagoers can see 1234 as it makes its way around the country – a full list of dates and venues can be found over at Borg's Blog - and it's certainly a better bet than Tim Burton's lacklustre Alice, which is also out this week.
"It's funny because Tim Burton was cutting Alice In Wonderland at the same place we were cutting 1234," says Borg "And because it was such a big budget film they had all these wonderful edit suites everywhere and we were stuck in a little room up in the attic, so it's quite nice to be coming out in the same week as we had a history together in some way."
1234 is touring venues in the UK now. Flutter does not have a distributor yet – watch this space... and catch up with Giles Borg's work on his Autofocus blog. You can follow Soda Pictures' New British Cinema Quarterly on Twitter @NBCQ
Share this with others on...