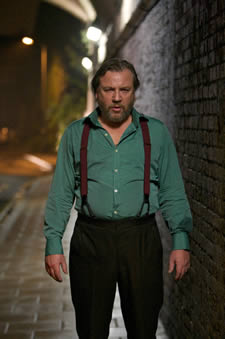 Ray Winstone has the central role in the film
"44 Inch Chest just sounded right. It's a macho male measurement. It also relates to the love chest that has been invaded, and to the wardrobe where Colin's wife's lover is kept," says writer David Scinto, explaining the title of his new film. It's the story of a man who is heartbroken when his wife leaves him, and whose friends come together to kidnap her lover so he can exact revenge. David, and stars Ray Winstone and John Hurt, got together in London to discuss the film.
The setting couldn't have been more appropriate. London, and its historic gangster culture, is right at the film's core. "I grew up in London, in the East End," explains David. "It's been sad watching London disappear and a new one appear in its place, with new buildings going up almost every day. There are still these amazing pockets of the old London, but they'll go eventually."
Ray has made a lot of films set in the city, but his attitude is that the same mentality exists in other places, like New York. "Infidelity is universal - you could set it in Manchester or Liverpool. Places where you can walk through bomb sites and men struggle to find work. Men can beat each other up," he says, "But this film is also about how much men can be in love - with women and with the love you feel for your friends."
This isn't an easy love to express, for all that Ray's character seems to be in the habit of bringing his wife flowers and gifts. "There's violence against Liz [the wife] when she wants to leave," says David, "and more violence implied. "But we see the state of Colin. He's not just a jealous husband. He's violated. His heart has been ripped out and he loses his sense. It's something that can happen. It needs to be brutal in the film to show the impact of Liz's infidelity. He's made a huge investment in the marriage. Infidelity may be commonplace and accepted, but it's not funny."
Physicality is an important factor throughout the film, David feels, noting that he wrote the script with particular actors in mind. The size difference between Ray and Melvil Popaud, who plays the kidnapped lover, is a significant factor. Other actors were chosen for the complex qualities they could bring to heir roles.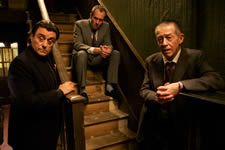 As Old Peanut, John Hurt has what is perhaps the most difficult job. Attracted to the script by its strong writing and enormous profanity (most of which comes from his character), he struggled to find good in him. He thought about the big hard guts he had known at the Biblical Sunday School he attended in his childhood. It took a while for him to get into the role, he says, but it worked when he got there.
Ian McShane has the most unlikely role as Meredith, the suave gay gangster whose approach to the situation appears more sophisticated, though he's prepared to be as brutal as his friends. Ray explains that he does make sense in the context of the story. "When I was a kid I had an Uncle Lenny," he explains. "He was my Dad's friend. I knew later that he was gay, but he was a tough man. He was Meredith to a tee. Sophisticated, but no-one mentioned he was gay; it was taboo. He was just one of the chaps."
"The way to make a film like this is to get the actors on your side, then seduce a producer," says David. He describes Ray's character as masochistic, but that's not what appealed to Ray about the part.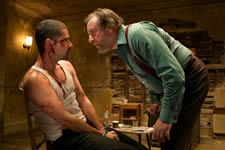 "I see him as an incredibly strong character," says Ray. Plus, he laughs, the set was just 25 minutes' journey from his house, so he could lie in bed in the mornings, and looking at Joanne Whalley was not bad at 8am. He also loved working with director Malcolm Venville and with gifted actors who made his job much easier.
John explains that he was attracted to what he saw as a Bertolucci style tragedy of a ridiculous man, and that he felt a gut affection for Colin. He was interested in the way moral themes developed and Colin held true to his principles.
"You're the clever one!" Ray comments.
"The posh one," John corrects him.
"It's about doing right or doing wrong," David says, "No matter how much your temper boils in you."
Ray agrees. "Some violence is already done when the film opens, but it takes a certain kind of man to kill after time has gone by. Thank God there aren't too many of them."
"I could see myself writing the same story ten years from now," says David. "Just don't fuck with my wife."
44 Inch Chest is out now in cinemas across the UK.
Share this with others on...