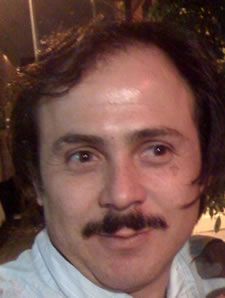 Gerardo Naranjo Photo: Andrew Grant
After premiering at Venice Film Festival in 2008, Gerardo Naranjo's I'm Gonna Explode (Voy A Explotar) has ricocheted round the world at various festivals, from Toronto to Berlin and Istanbul to Edinburgh. This week UK audiences get to find out what all the fuss is about as it goes on much-deserved release.
The film tells the story of a blossoming romance between two troubled teenagers – Román and Maru. The former is a devil-may-care son of a corrupt politician and Maru finds herself drawn to his sense of rebellion. As they revolt against their parents – by faking her kidnapping – they have little idea that both their own emotions and their situation are about to spiral out of control.
Chatting to Naranjo after the film showed at the Edinburgh Film Festival, the 38-year-old says the subject matter definitely stems from his own teenage years, when he confesses he was a bit of a handful himself, spending time in and out of various schools, always on the look out for rebellion. He carried this penchant for insurrection into his adult life, founding a classic film club named Zero For Conduct, after the Jean Vigo film about revolution at a boys' school.
"The film has a lot of the feelings I had when I was a kid," he reveals "Of course, I didn't have a gun with me or a beautiful girl next to me but I was a rascal and I was rebellious. Pretty much, I didn't feel I was part of the world. I didn't understand the social dance people were doing. I really wanted to say: 'Stop, I don't want to belong to this.' Then I found filmmaking - and being a filmmaker, I guess I found a way to live in the world and be useful to people.
"When I started to make this, I thought I want to make a movie that the kid I was 100 years ago would like to go see and that will inspire him to keep going."
He may be looking to inspire the kid that he was, but the strongest character in the film isn't Juan Pablo de Santiago's Roman, but rather Maria Deschamps' Maru, who takes the audience with her on an emotional coming-of-age journey.
"In the beginning this was a hate letter to the adults, mostly teachers, who made me suffer," says Naranjo. "But saying that is just a provocation because in the end I think it is an homage to the girls that I have known and admired. I don't say this too much but in some ways it is an homage to girls in general because the guys are not good guys.
"I knew Maru was going to be my hero. I knew I wanted to speak via her. And I knew that the [male] kid would, at the end, transform into his dad and become like a moral imbecile. With the girl, I wanted to show a human, a believer who gets into a trap and who follows this crazy guy into sabotaging her life. I felt it would be interesting to show how a believer gets sucked into a trap."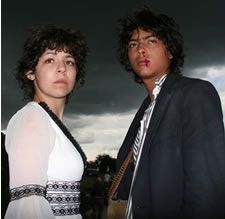 Casting the central pairing - who are onscreen for almost all of the film – was crucial to its success and Naranjo says he spent six months and considered around 6,000 youngsters for the role before settlikng on non-professionals de Santiago and Deschamps.
"It was a lot of kids, a lot of time, a lot of energy," he admits. "Obviously I didn't want the biggest blonde sex bomb or the most muscular guy. More than anything, I wanted the fragility of the teenager, the insecurity, the bravery - this thing of not knowing what you should do, but going ahead. Just how unsafe it feels to be a teenager when you are with a girl. You don't know whether she wants you to kiss her or not and everything is such a dilemma. There are not clear signs of what you should be doing in life. For me, it was very important to have that sense of isolation, insecurity and danger."
Although, on the face of it, a simple tale of youthful revolt and its consequences, Naranjo has wider issues at heart, concerning humanity and, particularly, the current socio-economic state of his Mexican homeland.
"The kid is spoilt and rich and the son of a politician. I wanted her to me more like normal people and a metaphor for the Mexican people - in the way that we are given ideas, political ideas or religion, and we follow them because we are such ingenues.
We give ourselves to whatever idea these foreigners or those who are high up give us. We are just like sheep. I think Maru is pure and she thinks Roman is going to follow through on what he says... and he doesn't."
Naranjo maintains that many of the problems in Mexico stem from the fact a minority of the population hold 90 per cent of the wealth. He thinks that this is why there is currently a rise of Mexican filmmakers, such as Alfonso Cuarón and Alejandro González Iñárritu, looking to capture different perspectives on film.
"There is a lot of injustice and a lot of unfairness in the way life happens and the way things are done," he says "Every 100 years there is a revolution. The [war of] independence was in 1810, then in 1910 we had the first revolution and now I think we are waiting for the next one because the rich people are exploiting the poor people.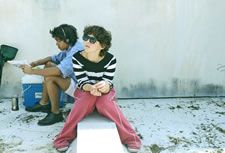 "Hopefully, it's a cultural revolution but there is a polarised society. I guess, in film, we are fighting against a monopoly, that is dominating education. I think Mexicans are being educated now by TV or the media and I think the monopoly is trying to make the people stupid. I think this wave of filmmakers is a reaction against that. We'll see, but it is definitely not looking good because the big companies are very powerful and they own almost all the venues."
This all sounds pretty serious, but although there are social comments underpinning this tale of youthful insubordination, it is clear that telling a good story is paramount to Naranjo – and he is also more than happy to admit the influence of other films, including Jean-Luc Godard's Pierrot Le Fou – about two youngsters, Anna-Karina and Belmondo, who go on the run.
"I feel there's a misconception in the world that art film has to be dry and have no level of communication whatsover except what is there; that it's all in interpretation," he says.
"All the Bressonian, all the Bruno Dumont kind of films - it has to be dry. Voiceover is a scene, music is a scene - and I'm completely against that. I think nobody has used cinema in the best way that Orson Welles or Griffith or Godard did. He has a multilayered discourse.
"I don't believe too much in homages. I believe it is copying. So I didn't want to hide it or make it 'à la Godard', so I thought, what are the elements of Pierrot that I would like to take - and just put them as they are. I knew the film would be very different because it's Mexican and it's not Anna-Karina and Belmondo, but at the same time I knew I would be referencing it. I don't care. One critic was saying that, in the best case, kids will get to know Godard, so I have no problem with that. I know that it is close but at the same time I would like to fight against the notion that art film is dry or boring."
It seems tackling the same teenage inflected subjects again would also be boring, so Naranjo is looking for a change of pace with his next film.
"I want to stop. I am going to change. I'm going to assume I'm an adult, even if I don't want to. I'm going to make an action film that deals with the violence in which we are living and all the drug dealing. I think Mexico is in a crisis of violence and nobody understands why it is happening. Everyone is blaming everybody else and there is no fact. There is no agreement between us to become a better country and I would like to make a movie about that. Not giving any answers but asking, why are we so crazy.
"And I'm producing a documentary about the most corrupt policeman ever in the country, which is very interesting but quite exotic. It's like Idi Amin, a crazy man - he passed away already - but he had incredible tales. I have many projects in mind, I guess they will always be a little political and have a lot to do with society but I would like to do every different kind of genre. I wouldn't want to stay just with kids.
"I have a story a little bit but I don't have a hero yet. I hope it's a girl, I don't like to choose guys. I think it is more interesting with an actress. Andrzej Zulawski, who directed Possession, said that the best way film can express something is via an actress. I truly believe so."
Share this with others on...