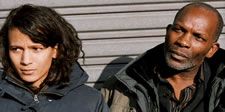 Alex Descas and Mati Diop in 35 Shots Of Rum
Claire Denis's 35 Shots Of Rum (35 Rhums) is a carefully crafted study of emotion, focussing on the bond between a single father, Lionel, and his daughter Josephine as she comes of age and begins to 'move on' to a life less dependent on him.
The film opens with a long shot of Lionel working on the railways – and the sense of going on a journey with the characters is continued throughout the narrative. The audience may not know what the destination is, initially, but writer/director Claire Denis – who I catch up with during the Edinburgh Festival – says her characters certainly do.
"I think in a way, the father knows one of the destinations is probably that this relationship with her [Josephine] will end," she says. "The father and the daughter, maybe, this love relation, this couple they have formed is going to end because I think the father wants his daughter to have her own life. They maybe don't know the small stations in between but they know the end."
The relationship at the heart of the film has a basis in fact.
"My grandfather was a widower who raised my mother, an only child, on his own and who never remarried. Myself and my brothers and sisters could feel how crucial the moment when my mother left him must have been, as she was his only child. We thought that we, brothers and sisters with a father and a mother, would never have to do such a cruel thing."
But if the characters of Lionel and Josephine – played by Denis regular Alex Descas and newcomer Mati Diop – started out life based on family members, she says that they have travelled a long way from that in the finished film.
"I cannot say I was thinking about my grandfather and my mother when I was making the film. The model disappeared," she insists. "Something grows and the model isn't there any more."
A sense of the organic permeates Denis's movies, as the stories grow gradually with little narrative to force them along. But although the framework may feel loose, the director knows exactly what she wants to make right from the outset.
"Somehow the story was there already and by developing the script we confirmed the shape. I always think, in my case, I don't like to look for a story or to build up a story, I think there must already be a story, more or less."
The feeling of family in the film is also echoed by the cast and crew, several of whom Denis has worked with before.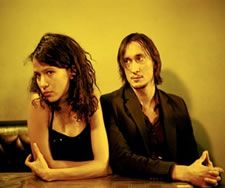 "The main character, Alex Descas, this part was written for him. Gregoire Colin [who plays Noe, a young man who is trying to forge a relationship with Josephine], too, I wrote for him, because I have been working with them a lot. I started working with Alex in 87 and I met Gregoire, when he was 14, in 94, so you know that for me it's not even casting."
In many ways, French filmmaking seems to have caught up with Denis, whose films have, for years, featured issues concerning people on the margins or immigration. But in the past year or so there has been an explosion of French films dealing with these themes, including Philippe Lioret's Welcome, Costa-Gavras Eden Is West and Abdel Kechiche's La Graine Et Le Mulet. So does Denis feel she has set a trend?
"I made my first film 25 years ago about that," says Denis "So I don't know if I am in the mood of today but I was already in that mood 25 years ago. I think they are speaking about the problem of immigration and I never dealt really with that. I dealt with people of different origins."
Finally, I ask her about the experience of taking her film to festivals. Unusually, for a director, she's not a fan of Q&A sessions – but she recognises the necessity of them.
"I do it because I think it's important to be responsible for the film I am doing. So even though I dislike speaking about film, I do it because I have to be responsible for it."
35 Shots Of Rum is on selected release across the UK now.
Share this with others on...