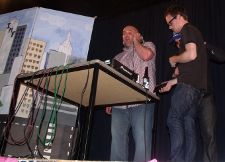 Shane Meadows on the decks
I had thought that the premiere party for My Last Five Girlfriends, held in a bag shop in New York, was just about as idosyncratically British as that sort of thing can get... but the Le Donk after party last night has forced me to think again.
Billed as a Credit Crunch party, everything about it was perfectly suited to Shane Meadows' mockumentary about a roadie (Paddy Considine) and his rap sidekick Scor-Zay-Zee (a rapper in real life) as they work at an Arctic Monkeys gig. Held in a church hall a considerable way from any of the other film festival venues, there was a 75p entry charge (correct change only) and it was decked out in streamers and balloons, while the fliers for it had promised beer "but if you want 'owt special, bring your own booze". Bringing back the ghosts of school discos past - though with added tequila slammers - a small but enthusiastic crowd were treated to an evening of entertainment, which went to prove that you don't have to spend a fortune on a party to ensure everyone has a good time. "The whole thing cost £320," Meadows revealed - money well spent.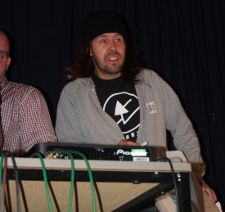 Meadows hit the decks at the midpoint of the evening - and its fair to say there is something slightly surreal about watching a film director in rapt concentration as he tries to mix from one track to another. He played some decent reggae, mind you, and that along with the tombola - prizes included a small tin of mushy peas and some anal lube (not to be used simultaneously) - went down well. Revelations of the evening included the fact that any similarities between Donk and Saxondale may not be purely coincidental. Apparently Steve Coogan saw some early film of Le Donk...enough said, perhaps.
Later in the evening it was time for Le man himself (Paddy Considine seems to be living and breathing the character wherever possible this week) and Scor-Zay-Zee to get up on stage and treat us to live version of Calm Down as those tequila slammers I mentioned earlier were being passed around. I haven't had a tequila slammer in around 15 years... and have now sworn off them for another 15.
| | | |
| --- | --- | --- |
| The prize tombola, tat without chit | Scor-Zay-Zee entertains the masses | That'll be the crowd dancing round some handbags |
| Shane Meadows with a banana and Empire's Damon Wise - it was that kind of night... | The drinks table - every expense spared | Le Donk branded beer |
Share this with others on...