The award-winning Ciaran Hinds in The Eclipse
I've been avoiding mention of swine fever but the acquisition of a head cold is making for interesting times. As the US VP talks of not getting on subways (before the situation was hurriedly 'clarified'), my sniffling appears to be lending me a gothically sinister air. Pulling out a tissue on the subway this morning had a similar affect to brandishing a Glock, as the rush hour crowds hitched and hustled their way to a safe distance, while casting me the sorts of sidelong glances usually reserved for long-haired young girls in J-horror. If hand sanitiser stocks aren't soaring already they soon will be, in fact, I was somewhat surprised not to be sprayed mace-like with disinfectant by one particularly disgusted looking 'strap-hanger'. Forget critical appraisal, for the rest of this week, if I see something bad, I'm just going to breathe on the director.
As it happens there's plenty of gothic influence onscreen at Tribeca this year, too, from the Edgar Allan Poe inflected Tell Tale, to Conor McPherson's The Eclipse, which has, at the time of writing, just won Ciarán Hinds the acting award here. It's true that he is terrific in the central role of Michael Farr - but the film doesn't live up to his performance. Somehow, despite the great turn from Hinds, this film of a single dad attempting to navigate the waters of grief never quite gels with its supernatural elements. A subplot involving a drunk American writer (also a lovely turn by Aidan Quinn) fails to rise above cliche and attempts to manipulate the audience's emotions between fear and sadness never really come off, although some of the scary sequences have a real 'boo' factor.
Emma Caulfield in TiMER
I also realised that I neglected to tell you about TiMER yesterday. This romcom starring Buffy The Vampire Slayer's Emma Caulfield has a terrific premise - being set in a parallel 2005, where wrist implants are available to help you find Mr or Mrs Right. Once activated (provided the love of your life has invested, too) they will go off to indicate when you have met. Caulfield's character has a blank TiMER meaning that her perfect partner has yet to get one fitted, while her half-sister has discovered she will be in her forties before the 'right' guy comes along. Writer/director Jac Schaeffer's smart premise moves along well to begin with but runs out of steam half way through and finishes with a whimper not a bang. Still Caulfield and John Patrick Amedori (who plays her much younger squeeze) deserve praise for generating plenty of chemistry. Rumour has it that there is at least one alternative ending, one suspects they should give it a try.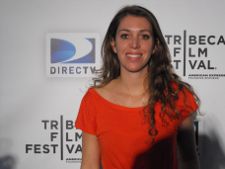 Lucia Penzo - director of The Fish Child
Nothing wrong with the ending of The Fish Child, though - Lucia Penzo's follow up feature to XXY, which is based on her own book of the same name. Like her debut feature, The Fish Child is, at heart, a love story, the protagonists in which just happen to be a lesbian and a bisexual. Her focus on the deep-rooted heart of the issue is enviable and the thriller framework works well.
I had the chance to speak with her later about the film. She talked about the origins of the story, adapting it for the screen and revealed that she was initially determined not to cast Inés Efron in the film - although given her startling good performance, reminiscent of a young Samantha Morton, here, one can only be thankful that she did.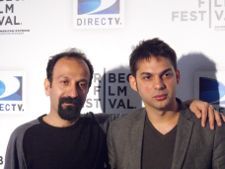 About Elly director Farhadi and actor Payman Maadi
I also had the opportunity to talk to About Elly director Asghar Farhadi and cast member Payman Maadi. They had some insightful things to say about the film, not least concerning the nature of a democracy and how the story, about a group of friends who find tragedy strikes on a weekend away, reflects gender politics in Iran which may surprise many who have preconceived ideas. I only managed to catch one film on Wednesday due to the cold and a serious need to write something as well as just watching, but it was by far the best film I've seen at this year's festival - Departures. In fact, it's probably the finest film I've seen this year.
The film tells the story of Daigo, a cello player, who gives up after his orchestra folds and accidentally lands a job preparing dead bodies for funerals. A subtle symphony of moods, Yôjirô Takita moves seamlessly from humour to grief and back again, with never a wrong note. The film also features the most remarkable montage I think I've ever seen, which manages to generate both laughter and tears within its short space.
Speaking after the screening, actor Masahiro Motoki says that there are a lot of similarities between the Japanese tea ceremony and encoffining, and that Japanese people prefer form and ritual to express emotion rather than words.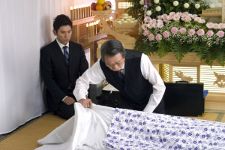 The year's best film - Departures
Takita said: "I really wanted to take a look at the moment between death and when you see the body laid out in the funeral coffin. And by looking at those moments it would actually wind up affirming life."
He added that there has been a resurgence in this sort of practise partly spurred on by the popularity of his movie.
Asked what the most difficult part of the film was, Motoki said: "The cello playing was very difficult, but in a way the more challenging part of making this film was, as an encoffiner you're not supposed to be a soloist, you're supposed to be a surrogate for the family's feelings towards the deceased. So you really need to gently absorb all the emotions swirling around you and express those emotions through your gestures. So it's a very difficult balance."
Asked about the prejudice the central character faces as a result of his occupation, Takita said: "It's true that in Japan death has long been associated with impurity so there have long been lingering prejudices that still persist in parts of Japan to this day. But I actually didn't set out to make a film about those prejudices. I set out to make a film about a young man who has to pick himself up and dust himself off and mature on his own terms, through his encounter with this ritual called encoffining. But I'm delighted that I think people finally do understand about the job of an encoffiner and now that many people are wanting to be sent off in this kind of beautiful, ritualised way."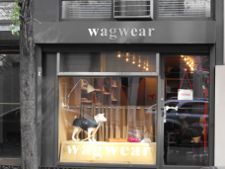 Wagwear will never look the same again
No diary piece this week, of course, would be complete without a 'think you've seen it all'? moment. So in the spirit of the Champion's league semi-final, I present Wagwear... although I don't suppose we'll see Colleen and Posh shopping here any time soon. Now, if you'll excuse me, there's a box of tissues and a hot toddy with my name on it.
Share this with others on...