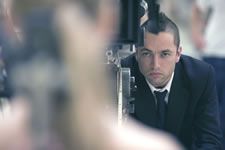 Director Sean Ellis
Sean Ellis's debut Cashback was something of a genre-busting affair, billed as everything from a romcom to drama. The darker elements could be seen as portents of what was to come with his second feature, The Brøken – out on DVD this week – which is a fully-fledged horror/thriller.
Catching up with him at last year's Sundance Film Festival, the day after his latest film screened for the press Ellis is the first to admit that Cashback – about an insomniac student working backshift in a supermarket who takes refuge by imagining he can make time come to a halt - has hidden shadows.
"Some people call it comedy, some people call it drama, some people call it romantic comedy, I think it has quite a lot of cross-genre pollination in it," he says. "I think there is a darkness in it. Some people gloss over it and concentrate on the wacky side or visual side of it but I always saw it as quite a dark tale of a young guy really trying to find his way in the world."
Ellis has certainly embraced the darker side of the world with his latest offering, which tells the story of a woman who finds her life falling apart after what appears to be a chance sighting of her doppelganger. After following her double, she winds up in a car accident and becomes increasingly paranoid that those around her may not be all they seem.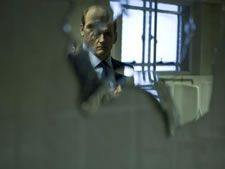 The Brøken relies on dread
It's a subject that harks back to horror films of yesteryear, such as
Invasion Of The Body Snatchers
, and relies more on a creeping sense of dread and unease than on fountains of gore – although there is a key scene in which mayhem descends.
"We shifted the scenes around," says Ellis, "But what we realised, looking at it, was that we needed a scene to show what was at stake, what was happening. And at that point, you're completely clear what's going on. What happens then is, everything after that you only need to suggest because you know how horrific this thing that is happening is. The scenes seemed to work more strongly after that."
Ellis clearly knows what he wants to get out of his filmmaking. "I've got different things to say. I don't really want to carry on making the same film for the rest of my life."
He also has a knack when it comes to picking actors on the verge of making it big. With Cashback it was former EastEnder Michelle Ryan – who would go on to cause a huge stir when she was cast at The Bionic Woman, and with The Brøken, it was Lena Heady, who was also soon heading Stateside, courtesy of Terminator: The Sarah Connor Chronicles.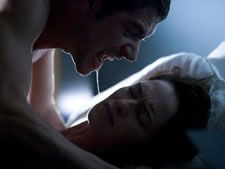 Lena Heady and Melvil Poupaud
"We've had a bit of luck," he admits. "Michelle Ryan exploded on to the scene after Cashback, and Lena Heady as well.
"We were halfway there with Lena Heady because when I originally cast her she had just finished 300 and I knew a little bit about it and had seen some production stills, so I knew it was going to be quite a big movie and probably the biggest exposure she'd had as an actress, to date. So, it was a final tipping thing. She was very well known in England but I knew 300 would make her a name in America. It's also an easy sell – she's the only woman in it. The question isn't, 'Which one is she?' They know she's the Queen."
But if his stars are up-and-coming, Ellis is also happy to admit his influences are from more established places, harking back to films such as Invasion Of The Body Snatchers.
"They were the films that really scared me as a kid," he says. "There was an episode of Hammer House Of Horror called The Two Faces Of Evil, which scared the living shit out of me when I was a kid and the thought that somebody you trust and love and care about is gone and replaced by somebody who doesn't have any of those feelings or connection with you any more, is completely alien, I thought was a really scary idea.
"I don't think there are really that many films being made for the slightly older generation. Films are made a little bit now for the teenagers and I wasn't really connecting with a lot of the horror films that were being made.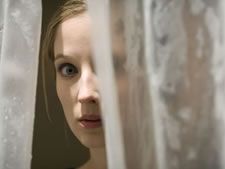 Michelle Duncan as Kate
"A lot of it heavily revolves around gore or teenagers having sex and then being killed – and there is a great market for that and I'm not knocking it. But I wanted to make something that had an adult theme within the genre; that retained the horror genre but treated the material in a more adult way, like
Rosemary's Baby
, Angel Heart or
Jacob's Ladder
, movies that I felt were great scary movies.
" I didn't want to cornfeed the audience the story. I don't respond to those kinds of films myself, I don't find them that interesting – oh, this mirror's cursed, or this old legend of this… - for me, it's just not that interesting. I think it was more how you would write a novel, a bit more cerebral and a bit more open to interpretation. I wanted it to be an adult-themed horror film, with atmospheric overtones."
Atmosphere firmly in the bag, Ellis was looking ahead last January and, though his next film has turned out to be a short, Voyage D'Affaires (The Business Trip), he was looking forward to more feature-length exploits – and was spoilt for choice.
"I'm moving on to the next project. I haven't decided exactly which one it is, I have two so I'm not sure which one I'm going to do first. They're completely different again. It might be a war film, but I'm not sure how that's going to pan out yet. It's a move back to the war films I used to love watching. It's a very British story and it's a story that's never been told before, which I really like."
The Brøken is out on Universal Pictures DVD from April 6, buy it from Amazon
here
.
Share this with others on...