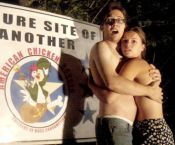 There are very few truly independent film companies around today, with most so-called independents being subsidiary to the major studios. In their thirty-five year history, Troma have gained infamy through their operation as a totally independent film company and through their uncompromising comic horror films, like 1988s Troma's War, which featured the still shocking concept of a malicious group of Aids infected people wreaking havoc (the 'Aids Brigade'). A B-movie company created in the mould of Samuel Arkoff's American Independent Pictures, Troma is owned and lead by the director, actor, writer, and producer Lloyd Kaufman. 'Uncle Lloydie' is an eccentric man by any measure, a man who can be seen having an intern perform mock fellatio for a Troma promotional video and leading an army of people in Troma costumes at the Cannes Festival: in short, he is unlike any other movie company owner. In conversation, this public image is contrasted with a thoughtful, self-deprecating man with a renowned passion for independent cinema.
Troma began with sexploitation films in the Seventies, but quickly developed its unique blend of political incorrectness, comedy, nudity, bad acting, and schlock violence. Their most well known film is 1985s The Toxic Avenger - a gory slapstick tale of justice, romance and radioactive mutation. It was a bona-fide cult hit, leading to three sequels, a children's cartoon (The Toxic Crusaders), a comic book, and more. Affectionately known as Toxie, Toxic Avenger has become Troma's equivalent to Mickey Mouse and Kaufman is obviously proud of his creation. "He's become part of the American lexicon, that's for sure. I think The Toxic Avenger may be the only film of its kind that hasn't been remade. It's definitely known throughout the world and there's been absolutely no advertising. It was nothing to do with us, just something unusual, some kind of magic. Even today the movies are big sellers on DVD and television."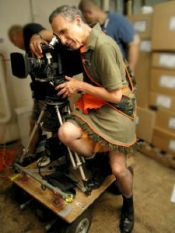 Kaufman recently directed the Troma production Poultrygeist: Night Of The Chicken Dead. The story is a vaudeville satirical horror musical about a chicken outlet built on an ancient Indian burial ground, the uprising of chicken zombies, and Arbie (Jason Yachanin)'s fight against the undead. The initial idea for Poultrygeist came out of a personal grudge: "McDonalds moved in next door to the Troma building and they proved to be very ugly neighbours. We had a basement become infested with rats the size of racoons." Further inspiration came from a seminal piece of investigative journalism, Fast Food Nation, which enlightened Kaufman about the evils of the industry. "It's not just that the food is unhealthy but the dead animals are polluting the planet, the workers are treated very poorly, the countryside is blighted with ugly, horrible architecture. It's just there's nothing good about it."
It may seem unusual to think of Troma films in a social context, but even The Toxic Avenger has its origins in environmental concerns. "All of the Troma movies have their basis in politics and sociological themes. Every movie I've ever made is driven by the events and passions of the day, and in this case, the evils of the fast food industry and the media together. Because the media gets together with the fast food industry and brainwashes little fat kids to go into McDonalds and get fatter. The public is brainwashed and made into zombies, and go to the fast food establishments. So that's why we use the metaphor of the zombies." Kaufman is definitely lovin' his latest work. "My favourite Troma film is Poultrygeist, without a doubt. I think it's the most original, best written, the most risk taking, the most political, and definitely the most entertaining."
As well as making and distributing films, Troma are trying to democratise the world of cinema, so that anyone can work in the movies. When making in-house Troma productions, most of the cast and crew are made up of enthusiastic volunteers from around the world. Kaufman has bought out the DVD and book, Make Your Own Damn Movie, and holds a master class under the same banner. At the same time as the Sundance festival, Troma put their own festival on in Park City, Tromadance, to showcase truly independent films. "We want to give filmmakers the opportunity to have their movies shown. Sundance festival we felt was such a phoney independent festival. It was not really independent. My crusade is not just to make movies but also to help independent filmmakers along the way. We have to (raise funds) every year, because Tromadance film festival is free. It's not a very good business model. Absolutely no revenue. It's very idealistic and we're going into our ninth year. We need our fans to help us out."
For a movie company with a 35-year history and millions of fans worldwide, Troma is still on the fringes of movie culture. Despite scholarly recognition from organisations like the BFI and Cinematheque Francais, Troma rarely receives mainstream acclaim, and they're finding it harder to get their films shown, with independent cinemas and rental shops disappearing rapidly, and multiplexes not touching Troma products. "We are economically blacklisted by a small group of conglomerates which control the entire world of arts and entertainment." Troma have survived due to their loyal fan-base and the digital revolution, with a vast back catalogue of DVDs and a successful website. "We're lucky but what's sad is that there are so many great artists and independent filmmakers who are unable to get their work to the public because nobody knows they're around. Well, at least a few people know Troma's around."
Troma introduced the world to a number of Hollywood's most unique voices. South Park and Team America's Trey Parker and Matt Stone had their first feature, Cannibal The Musical, distributed by Troma. "Trey Parker and Matt Stone certainly have been able to keep all their independence and their satire gets more aggressive as the show goes on. They're very loyal to Troma and they support us ardently, constantly talking about us. Team America is certainly one of the best satires ever filmed, in my opinion." The writer/director of Slither, James Gunn, started out as a screenwriter for Tromeo And Juliet. "James Gunn is just becoming successful now, and he's also one of the few people who are able to have control over what they're doing in the mainstream. I think you'll see great things from him. He also is very vociferous in his dedication to helping Troma and he put me in his film (Slither). He's always talking about Tromeo and Juliet whenever he's interviewed. There are good people in the mainstream, just very few of them."
The influence of Troma is far and wide, ranging from directors such as Peter Jackson and Kevin Smith to Quentin Tarantino. In fact, Tarantino and Robert Rodriguez's recent Grindhouse excursion can be seen as homage to the types of exploitation films Troma was distributing in the Seventies and Eighties, although Kaufman seems sceptical of this venture. "The concept of a $70 million movie (a slight exaggeration from the actual budget of $53 million) paying tribute to movies that cost $70,000 is not quite appropriate. It's a little bit like slumming, where the rich people take a limousine and go, 'let's go to Brixton and look at the poor people.' Both of those films were very good movies but maybe they shouldn't have tried to condescend to the grindhouse because it just didn't do it justice. I think they would have been better off maybe taking $70 million and making a hundred grindhouse movies. Of course, that's why I'm living in a refrigerator carton and those guys are the kings of Hollywood."
Though cynical of Hollywood cinema, Kaufman seems genuinely enthused about a few British films and directors. "I thought The Descent was a wonderful British film. Shaun Of The Dead was the best film of that year in my opinion. Those guys are great and they're Troma fans. The Wind That Shakes The Barley, a Ken Loach film, is a masterpiece. There's great stuff going on in the UK: wonderful films, big budget and low budget."
The Troma Films slogan reads 'Movies of the Future'. With forward-thinking ambitious films such as Toxic Avenger, Class Of Nuke-Em' High, Tromeo And Juliet, and Poultrygeist, they certainly have a claim on that slogan, but there is something about Troma which is decidedly old fashioned. Troma is one of the few film companies left with a commitment to truly independent art. It is heartening to know that Lloyd Kaufman exists. "I've just been elected to be the chairman of the trade association called the Independent Film and Television Alliance, which represents about 200 independent movie companies. It's very important because the big guys won, so we have to try to unseat them. It's like we're living in Russia in the Fifties and there are only one or two voices to be heard. It's either Rupert Murdoch's Sky TV or one or two channels and a few movie studios, and they own all the magazines, newspapers. And they're very oppressive, so we have to fight that."
Poultrygeist is out on DVD on October 28th and will be available from Troma.com.
Share this with others on...