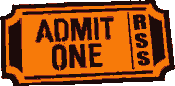 Tear off a ticket to return!
We update Eye For Film every day with fresh content, news, reviews, features and competitions.
Although many of you may have us bookmarked (thank you), the main problem with simply doing this is that it's inconvenient to manually check up on each of your favourite sites and then have to explore to find out what new content has been added. Now, if only there was a way for those websites to let you know every time they update with fresh content...
Now, there is an easy way of keeping up to date with all of our ongoing developments.
RSS (Really Simple Syndication) is a new-ish technology that is used by millions of web users across the world to keep track of their favourite sites. RSS feeds are lightweight, structured documents that web-browsers and all manner of automated readers can use to find out what the latest content is and when it is updated on the originating site.
Back in the old-school days, you'd save a site to your bookmarks or favourites list and check back every now and again to see what's new and if there's anything interesting to check out; nowadays you can subscribe to the RSS feed and all the hard work is done for you. This would be best described as a free subscription service - an automatic serving of fresh content as and when we prepare it - from the site. So, when we update, you'll be kept in the loop.
To start reading from our RSS feeds, you'll need an RSS reader. I personally use my iGoogle homepage and my Firefox web-browser (Internet Explorer 7 can also provide RSS aggregation) to do this, you may wish to use your own RSS reader. It's kind of like your email inbox - which will automatically deliver when fresh news, features and reviews are loaded.
You can find feeds both on your favourite websites or through your browser (usually an icon - like the one on the left) in the address bar identifies any feeds on the page you're currently viewing). Look out for buttons or banners on your favourite sites to suggest they have a feed for you to subscribe to.
It's like keeping a well-stocked newspaper shelf - fresh headlines from the BBC mixed with your favourite blogs and of course, all our regular movie news, reviews and features. So dive in!
Share this with others on...