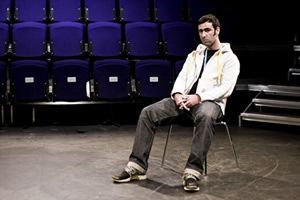 Duane Hopkins at the EIFF
I caught up with Duane Hopkins just before the UK premiere of Better Things, and we explored the ideas behind his challenging new film. Duane is more interested in theme than story. The 'story' lasts 90 minutes - or however long we are in the cinema. But the underlying themes resonate longer. They make us ask interesting questions about how they might have meaning in our own lives. Duane started experimenting by stripping story down to its bare minimum, concentrating on primary ideas.
Chris: For the first half of the film, I was worried I'd find it a triumph of style over substance. But by the end there are enough storylines to make the themes coherent and emotionally powerful. How do you achieve that balance?
Duane: One of the questions I got a lot in Cannes was, why is this film constantly about younger people and then about older people? We had actually shot storylines for the middle generation. But what we found in the edit was that this disrupted the balance of the film. It made the themes sit almost too proudly on film. We found the ideas of the film worked better when you had a starker contrast between the young and the old. But it took a long time in the edit to find that balance.
A lot of people when they watch it, they think, "This is a multi-narrative film, so when do we have the moment when all the characters come together?" But we had to make it so that hopefully throughout the film you realise that isn't going to happen. That it's not that type of film. There will be cohesion, but the cohesion isn't going to work in a normal accepted filmic way. A lot of audiences bring so much baggage when they come to the cinema, and it's something different that you don't have, say, when you go to an art gallery. When you go to an art gallery you are a lot more open to the idea of, "okay, I've never seen this before - there is going to be a certain mystery, and a certain 'not quite understanding' and a sort of tension between me and the work." Whereas when people come to cinema, they are so cine-literate...
Chris: they have expectations..?
Duane: Exactly. They think, "It's this kind of film." But of course, you can make a film cohere and you can make it come together and you can make it say something without doing the normal story plot-points that you normally have to do.
Chris: It all kicked in for me with the young girl and the old lady (Gail and her Nan)... It kicked in emotionally – I started looking at the emptiness they had and the spaces between them. Then seeing how that applied to all the other storylines. And then that got me thinking about the theme rather than just the multiple story lines.
Duane: Absolutely!
Chris: How far are your objectives purely cinematic, experimenting with exciting new tropes? To what extent do you hope to have a social impact – a sort of Ken Loach of the countryside?
Duane: It's not something I really think about. When I have an idea for a film, it's normally something I want to explore, normally something which is kind of a mystery to me. It's something I want to understand something about and there's more an idea of the atmosphere and feeling, an aesthetic and a sense of the world I want to create, rather than necessarily what it's going to say. I think quite often in films you are engaged in something which is akin to a work of art. You're going through a certain kind of discovery as you make it yourself. So it's only then that you realise what it is that you're making. Even now, after making the film, there are still certain elements that are very mysterious to me.
Chris: So in a way, the film gets a momentum of its own, rather than you having an agenda of, "that's how it's gonna end?"
Duane: Absolutely – you have to respect what the rushes want to be. Of course, you are applying pressure on it, because you're editing it and pushing it one way, pushing it another. But then you also realise that the film wants to go in a certain direction. So you have to follow that direction as well.
Chris: The direction might be set by how much you'd planned – was it all written in advance? Were the scenes shot chronologically?
Duane: There was no improvisation at all on the film. It was basically shot as a group of short films.
Chris: Was it Daventry it was shot in?
Duane: No. We shot some of it in Daventry – that was just for the slightly more urban elements - but most of it was shot in the Cotswolds.
Chris: It's of a similar ilk to your earlier short. Do you plan to stick with that environment or do you see yourself using theme over story in other settings – say among well-heeled city folk, or a political context?
Duane: With the short films I always had the basic ideas for Better Things. Doing those two short films brought the idea, I want to do a more honest, challenging interpretation of a rural area. Because I haven't seen it, cinematically, from this country. But the next idea is something different. The next film is one character. It's set in an urban area. It's basically a story of economic survival. I grew up in a working class family. I have this idea that working class doesn't exist in the same way as when I grew up. I think what you have now is a middle-class which seems very heavily debt-ridden. And then the other side of that is people who have fallen off. A new, emerging underclass, which is very, very big – it's something that I saw when I was doing the casting for Better Things. I want to set a film in that kind of environment. I want to see how it's possible to economically survive when you're part of that class, part of that system. And how hard it is to have a sense of morality. If you're middle-class, it's very easy for you to have a sense of morality. It's very easy for you to be liberal and have ideals, norms, values.
Chris: In a way, morality's a luxury?
Duane: Exactly. If you're on the other side of that, is it truly possible? And what that maybe does to the individual psychologically.
Chris: Are you still going for theme over story with the next film?
Duane: I think theme will always be there. It's also how I write. I write in image blocks and hard bullet points. So there's always a theme underlying the writing. I use story to get something else which I find interesting.
Chris: What films are you looking forward to watching?
Duane: Two friends of mine have films here at Edinburgh. The King Of Ping Pong. And also Crack Willow. So I'm looking forward to seeing those films. There's a few friends of mine that have films in Cannes as well. A film called Involuntary by Ruten Ostlund. And a film called Delta by Kornel Mundrunczo.
Share this with others on...