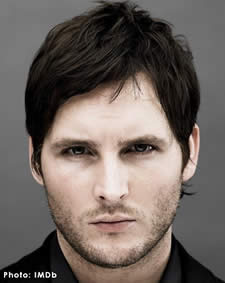 Peter Facinelli
Peter Facinelli is one of the stars of upcoming film Twilight, directed by Catherine Hardwicke and co-starring Kristen Stewart and Robert Pattinson. Eye For Film's Darren Amner caught up with him to ask a few questions.
Darren Amner:I believe you're now on a two week hiatus from filming your new movie Twilight. How has your experience been so far working on this project and what was it about Twilight that made you decide to sign on for it in the first place?
Peter Facinelli: I am back at work now, and although I was grateful to have to have two weeks off and spend time with my family, I missed filming and am excited to be back.
As for why I signed on to this movie, I read the book in one day and I was hooked. I loved the idea of a vampire falling in love with a human. It was very Romeo And Juliet. Two lovers who find it impossible to be together because of the families they come from.
DA: It's clear that the fan-base for Twilight is massive, passionate and international in scope. How would you describe the film to the uninitiated?
PF: If you have not read Twilight I recommend you pick up a copy. It's the story of a girl who moves to a small town in Forks, Washington, to live with her father. She discovers a family of vampires who also live in this town and are trying to live amongst humans, as humans. They live a "vegetarian" lifestyle and survive only on animal blood, which sustains their strength, but is not very satisfying. The girl falls in love with one of the vampires, as he does with her, but due to what he is, it is impossible for them to be together. In the midst of all of this, a "non vegetarian" coven of vampires come through town and threaten to destroy their way of life, and kidnap the girl. I play the father of the vampire family, Dr Carlisle Culllen.
DA: What can you tell us about this character? What research or preparation did you do for the role and what have been your experiences in portraying him so far?
PF: Dr Cullen was turned into a Vampire in the 1660s. He's over 300 years old. He has somehow, through sheer will and self-control, attained the ability to overcome his natural instincts of feeding on humans and chosen to feed on animals only, leading a humanitarian lifestyle, even to the extent of becoming a doctor to help them.
Most of the research I did for the character came from the three books in the Twilight series. Stephanie Meyers is very detail oriented so there was a lot of information to soak in.
I also met with a doctor here, while filming, to make sure that any scenes I had that had to do with anything medical were truthful, and I spoke at length with him about his profession, as well as spending some time at the hospital he worked in.
Living over three hundred years, Dr. Cullen has seen a lot. So I spent some time researching the time periods he lived through in the areas he lived to give myself a sense of what he might have seen or gone through.
Researching a role is a very fun part of the process for me as an actor, so I was excited to be able to explore all of these areas that were a part of the character I play.
DA: Vampires are a popular theme in movies these days. What can we expect from the Cullen family in Twilight and have you always wanted to play a vampire on the big screen?
PF: For a long time I was not a fan of vampire movies. They seemed silly to me, or gory. Right before I became aware of this project I stumbled across a book which was about vampires in film. It had 50 years of vampire movies, and pictures of different movies from different time periods. I was captivated by the black and white images of Bella Lugosi's time period. There was a beauty and mystery that was lost over the years as vampire movies became more about blood and gore. When I read Twilight, it captured that same feeling as those black and white pictures. That is what drew me to doing a vampire film.
DA:Why are humans so interested in vampires?
PF: I think humans are drawn to the fascination of immortality. There is also a sexual undertone of vampires. The thirst to consume another. The biting on the neck. Sex and immortality is a big draw for humans.
DA: The cast of Twilight is quite young. I believe you're one of the older members of the cast - what has it been like working and developing all the relationships with the actors? Have you been out on bonding sessions in order to get to know your new on-screen family?
PF: I do feel like grandpa around the young cast, but it helps, seeing how my character is over three hundred years old. We have all bonded as a family. I have the utmost respect for all of them as actors, because I see how hard they are working to bring their characters to life.
DA: What has it been like working with Robert Pattinson, who plays one of your sons and who is also one of the leads in this film? I think once Twilight is released in December he'll become very popular. What was the relationship dynamic like between the two of you?
PF: Robert is a smart actor. He understands the complexity of his character, and all the inner struggles his character is going through. I enjoy watching him work. I love collaborating with him. The relationship between Robert's character (Edward) and mine (Dr Cullen) reminds me of a father/son relationship you might find today. They go through the same turmoil. Edward is not unlike a rebellious teen who is searching for his identity and looking for love. He has love and respect for his father, yet questions everything his father is. Dr Cullen, like a lot a fathers, can do nothing but love his son unconditionally, and stand by him, even at times when he thinks his son is making mistakes. I think many parents of teens will agree that you can't force your teen to do anything. You can only stand by them, advise them, and hope they make the right choices. So, even though this story is set in a vampire tale, I think many parents and teens will be able to relate.
DA: What's your favourite scene in the film?
PF: There is a scene where the Cullen family plays baseball. It is a family event they often do together, and because they have a superhuman speed and strength it makes it more fun. It was the most fun to shoot so far.
DA: I picked Twilight as one of my choices to look out for in 2008. What do you think audiences can expect from this film and how will it differ from some of the year's other offerings?
PF: I don't know what else will be out there so I can only tell you what to expect. It's a beautiful love story that teens and adults will connect to and root for. It has action and is a vampire tale that will intrigue you, in a mystical way, leaving behind the stereotypical "horror" of what vampire movies have become.
DA: You starred in Fast Lane, a television series that I greatly enjoyed, which was sadly cancelled a few years back. It must have been a blast to film. What was it like to work on and will it ever see a release on DVD?
PF: Working on Fast Lane was like playing cops and robbers when I was kid, but getting paid for it. It was pure adrenalin and fun. I enjoyed all of the toys I got to play with… The cars, the guns, catching the bad guys, the banter between my character and Bill Bellamy's. Blowing things up. It was a show where I was given the opportunity to play comedy, drama, and action all in one hour each week. I was sad that it did not live for a second season, but in some ways grateful that I wasn't typecast as that character, which happens often after multiple years on a series, and I'm happy now that I have the opportunity to play roles that are completely different, like Dr Cullen. The Fast Lane series is being released on DVD in July 2008.
DA: There's also a rumour that they considered doing a movie. Is there any truth to this and, if so, would you be interested should you be approached?
PF: Unfortunately, it is only a rumour. I would love to do a movie version.
DA: I watched Honest on DVD the other night, which wasn't critically well received. You shot the some of the movie on location in Oxford, I believe - which is where I'm from. Do you have any fond memories of shooting there?
PF: Honest was directed by Dave Stewart from the Eurythmics. I enjoyed working with Dave and he has remained a good friend. As far as Oxford, I remember feeling the history there. Everywhere I walked: on the campus, in the streets. As far as the film went, the three lead girls in the movie were from a band called All Saints which was popular in England at the time, and the critics panned the movie, dismissing them as singers who were trying to act.
DA: You have been steadily working in Hollywood for a number of years now. Who is the best actor you've worked with so far and who in the future would you like to work with if the opportunity should arise?
PF: I have gotten the chance to work with so many talented actors, it is difficult to say. But I would love to work with Paul Newman one day, as he was such an inspiration to me as a young actor.
DA: So what is next for you movie wise?
PF: I am not sure. There are a few projects I am looking at right now, but nothing I've committed to.
Twilight looks to have something to offer for everyone. The first part of a trilogy, it could be the slightly darker alternative to the Harry Potter franchise and if successful will be an international force to be reckoned with. Eye For Film would like to thank Peter for taking the time during filming to conduct this interview and also Chelle and Natalja Mortensen for all their help.
Share this with others on...