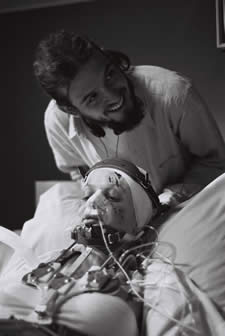 Rigoberto with Iliana Fox in KM 31
Given the worldwide success of directors such as Guillermo del Toro (Pan's Labyrinth), Alfonso Cuaron (Y Tu Mama Tambien) and Alejandro González Iñárritu (Babel) it may come as a surprise to hear that Mexico hasn't produced a straight-down-the-line horror movie for two decades. The only film to come close was Del Toro's Chronos, although even the director says that is more of a drama than pure horror.
This is just one of the reasons director Rigoberto Castañeda cites for the huge success of his debut feature KM 31, in his homeland. And the 34-year-old says he has set a new trend.
"Right now, after KM 31 - which was pretty much successful in Mexico, making the third most box office of all time - there are, I think, six horror films in production. There is a trend now and I hope that it is for good, rather than just a little while."
Castañeda is clearly pleased about the success of his story about an accident blackspot with supernatural overtones.
"Of course, I believe that it's not so bad," he says "But we have quite a 'noisy' trend of Mexican cinematography all around the world at the moment - Alfonso Cuaron, González Iñárritu, Guillermo del Toro - so there is a lot of confidence in Mexican filmmakers. Right now being Mexican and a filmmaker is a little bit like being Brazilian and a football player - so I'm lucky."
Castañeda says his choice of subject matter also helped to get the home audience onside. He draws heavily on the legend of La Llorana (Spanish for "the crying woman"). Although, as with all good traditions, the myth has several variations, it always concerns a woman with several children, who, after being spurned by her lover, drowns her children as an act of vengeance. On the night of a full moon - or quite possibly any time you want to put the frighteners on your kids - it is said she can be heard wailing for her children.
"It is another one of the reasons why I was sure that the movie was going to be a success," he says. "This legend is very well known in Mexico. It's a very old oral tradition legend, dating from the Spanish arrival in Mexico. Everyone knows this story. Old grandmas tell their little kids this story, so they will behave - so everyone knows it.
"What I was thinking was not to do the same movie as has been made in the past. The first was in the Thirties and then there was another during the Forties and Fifties and another in the Seventies. All of them had a childish approach. I wanted to take the same story in a modern way, to be scary enough to touch the sensitivity of a grown-up or a little kid. I think that is one of the things we did very well in the film. The audience discover it is about this old Mexican legend through the course of the film and are very excited about that."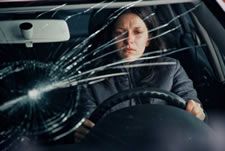 Iliana Fox plays twins in the film
It is perhaps because the film draws upon the La Llorana myth without being utterly dependent on it that the film still very accessible to non-Mexican audiences. In fact it begins with more thriller-style tropes, after a woman hits a child on her drive home. On getting out to help, Agata (Iliana Fox), is hit by a second car and thrust into a coma. Her twin Catalina (also played by Iliana Fox) becomes increasingly convinced her sister is calling for her help telepathically, and comes to discover that the Kilometre 31 point on the road harbours a deadly, supernatural secret.
There is a resonance with Japanese horror films such as Ring and The Grudge, in the watery goings on of this ghost story, but Castañeda insists this is purely coincidental.
"I get asked about that a lot. I wrote this script a long time ago, maybe seven years ago. Before The Ring and The Grudge. When we saw them, we were about to commit suicide, but we didn't and, well, shit happens, no?
"Even though it was close, one image to the other, we decided that it is a very old Mexican tradition and we couldn't change it just because someone else had a very similar tradition or legend, so we decided to play with it. This sort of thing has happened a lot in the history of cinema."
Its similarity in themes, certainly hasn't got in the way of the film's success - it is the third biggest box office hit of all time in Mexico - or put Castañeda off making more of them.
"My main genres are horror and thriller. I'll be doing them my whole life. Of course, I would like to do something else, like sci-fi and fantasy, but it's very difficult to make sci-fi, for example, you need a lot of work behind it. If a horror film takes you a couple of years, a sci-fi film is going to take you probably five. So it is a lot more difficult, a lot more painful, a lot more rewarding at the same time but I know I'm not going to be able to do it all the time."
Next up, will be Blackout - a claustrophobic thriller about three people trapped in a lift, starring Amber Tamblyn and Aiden Gillen.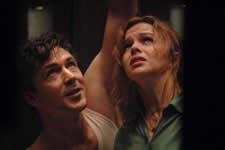 Aiden Gillen and Amber Tamblyn in Blackout
"Blackout is a psychological thriller, in that way it is close to KM 31, which is a psychological horror - we don't play with the slasher sensation, but we play with a more psychological sensation, with the movement of the camera, the colours in the cinematography, the way of the storytelling is very 'classic'," says Castaneda.
"The special effects serve the story rather than the story serving the visuals. It's a classic thriller. I think Hitchcock would love to do this film, because it reminds me a lot of The Rope and The Lifeboat.
"It's about three characters who get stuck in a lift for 20 hours. Around 70 per cent of the movie is inside the lift."
Clearly not striving for autership just yet, Blackout was written by another newcomer, Ed Dougherty. So does the variation appeal?
"I was writing the script for KM for between five and seven years and I knew the story inside out," he says. "When you have a script that someone else writes, you have to make a work of interpretation. Sometimes I wasn't sure what the reasons behind things in the script were. There was one time I called the scriptwriter and I said 'what's this because I don't get it exactly.' And he tried to explain to me, but at the end I said, 'You know what, I'm not going to ask you any more, I think this is a metamorphic interpretation and that's it.' It's like if a songwriter writes the lyrics, then the singer has to do an interpretation of them - one of the good things about this is to interpret the work of someone else."
And Castañeda is already planning his future career, so that - like so many of his countrymen - he can split his work between Mexico and the rest of the world.
"My idea is that everything I write I am going to produce it in Mexico and anything that is written by someone else, I'll do in America or Europe. That's the idea, anyway, but at the moment I'm writing a sci-fi thing that is probably going to be difficult to shoot just in Mexico - but we'll see what happens."
So, no doubt, will we.
Share this with others on...