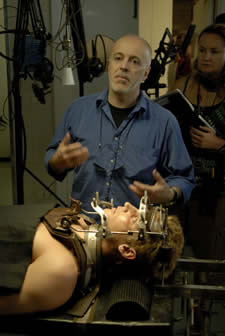 Dario Piana on the set of The Deaths Of Ian Stone Photos courtesy of Nick Wall
Darren Amner: The Deaths Of Ian Stone is your first feature. What was it about this project in particular that made you want to make this your directorial début?
Dario Piana: It's a long story... It's not easy to do an American movie, especially if you're not American, but being a well-known international commercial director helps me to get through, so I've worked hard to find the right project to start with. Everybody would like to start a career with a masterpiece like Orson Welles did, but you might die waiting for the greatest script in the world. The Deaths Of Ian Stone intrigued me because it's an original idea. Basically it's a love story with monster around... so it's more based on the characters' relations than just on the gore and special effects, and there was lots of space for me to do my job properly, even if we had very short time and very low budget.
DA: So can you tell us what the film is about?
DP: A regular guy, Ian Stone, is attacked by what he believed was a dead corpse, and is forced in front of a moving train. Instead of dying, he wakes up in a new life that has similar characteristics to his former one. He soon realises that he is being chased by an evil force and is killed again only to wake up in a new similar reality. Ian is destined to repeat this life/death cycle every day, and in every life is weaker and more miserable... until he can discover who his pursuer is before being killed. But behind the never ending horror there is a deep and strong love story. Fear and pain can't win against love... a simple message, but the truth.
Basically The Deaths Of Ian Stone is a story about how difficult is to get rid of an addiction. But if you find the right person, you're gonna make it. I know that in real life that doesn't always happen, but I'm an optimistic guy!
It's hard to tell for me how people will react to the movie. Some of those who have seen it like it because is not based on gore and SFX, but on fear and suspense. Some didn't like it because is not based on gore and SFX... We'll see.
DA: From a casting point of view, your main actor is American and the rest of the ensemble is British. Can you explain your choices for each role and what you think the actors bring to their characters?
DP: Originally the script was set in the US, but for production and marketing reasons the producers decided to move it to London. So we can afford an American actor as a lead, but it was more convenient to hire English actors. An American guy could easily live in London; more realistic if all the others were English. The film is strongly based on the characters, so I decided to choose the actors, besides the acting skills, with very precise features that could fit with the characters.
I don't believe that people see a horror fantasy movie as part of real life, so I tried to create a personal atmosphere a little bit over the top. Every life Ian is living, it's not real (I'm revealing a little bit of the story here!) , so my idea was to create a kind of weird and unrealistic environment where people and places are a little bit inconsistent, especially in the third act in the hospital. Maybe the audience will not get it, but I'm taking the risk.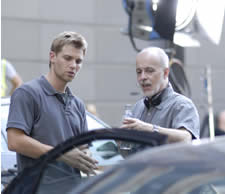 Dario and Mike Vogel on the set
DA:
Mike Vogel
is the only really well known actor in this film. I think he's an up and coming talent to watch. What was it like working with him?
DP: Mike was great! Believe it or not I met him only one week before the shooting (we had a very tight schedule), and we worked hard together because is not easy to get such a difficult acting performance: five different lives, with different emotions and a strong crescendo... and he did it amazingly. I would have given him better lines and dialogue to refine his role, but unfortunately with such a tight schedule and budget (only six weeks' shooting) I've done my best. Anyway, he's the movie.
DA: How was it working in the UK and shooting in the Isle of Man? Do you think the locations you chose added to the film's character?
DP: To be honest I was very happy to work in London. The locations are creepier than in LA and the mood is more dark and ancient. It's the right place for such a dark story.
DA: The movie is produced by the legendary Stan Winston, who is also providing the special effects for the film. What was it like working for him? Can you talk about the special effects?
DP: Before becoming a director I was an illustrator and for me to meet Stan was one of the most emotional moments of my life. He's a fantastic person, very supportive and friendly... overall an amazing artist, but everybody knows that. I was scared to show him my drawings of how I see the creatures of the film, but he was so excited about it and his fantastic crew brought to life what was in my head.
The movie is not a big budget movie, so Stan didn't have so much money to create complex creatures. So we've gone for something weird, menacing but not so visible... These creatures live in a kind of parallel reality, so you'll see them always surrounded by a kind of floating darkness. That allowed us to do something cool with the budget we had. You'll have a glimpse of them in the upcoming trailer.
Dario says Mike Vogel puts in an amazing performance as the film's hero Ian Stone
DA:
How violent and gory is the film? Was it fun coming up with creative ways to kill you main star or were those already in the script?
DP: The film is not so much gory, we have something disturbing in it, but basically is not like Saw or Hostel. Originally there were a couple of very disturbing and gory sequences in the third act. We had a first screening with a general audience, not only horror movie fans, and the film came out as too gory... People liked the story and the mood of the film, even the audiences that usually don't like horror movies. That's why the distributors decided to cut those scenes. I'm not sure if we've done the right things, because the horror fans will be a little bit disappointed. Anyway they probably will see them in the DVD deleted scenes section.
DA: How was your approach to the visuals in this film influenced by your commercial background? Is it flashy and vibrant, with a contemporary feel to it?
DP: Films like The Texas Chainsaw Massacre, Saw and Hostel are not about monsters or fantasy subjects. Things like that could happen for real, so I think the right style to shoot them is a realistic, grainy approach. A monster movie with a surreal script like The Deaths Of Ian Stone, for me, is like a fairytale, so the style should be a little bit over the top with a constant eye winking to the audience. I enjoyed creating a creepy moody environment especially in the hospital in the third act. I think that Jacob's Ladder was quite inspirational for me.
DA: Do you have any other projects you're currently working on?
DP: I'm working on several different projects at the moment: I've already signed for a very creepy thriller with some supernatural elements, no monsters and gore, very suspenseful and breathtaking. I'm developing two different projects also: a family movie in the style of Goonies and Back To The Future and a kind of horror/noir set up in San Francisco during the prohibition era - Marlowe meets Anne Rice. A very original script, it might be a problem!
Eye For Film will be bringing you further features on The Deaths Of Ian Stone closer to its release.
Share this with others on...