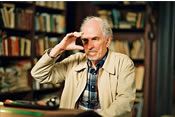 Ingmar Bergman on the set of Saraband Picture copyright Sony Pictures Classics
"No form of art goes beyond ordinary consciousness as film does, straight to our emotions, deep into the twilight room of the soul."
So said Ingmar Bergman, one of cinema's greatest ever directors, who died this week at the age of 89. Born in the Swedish town of Uppsala in 1918, Bergman was the son of a strict Lutheran minister who forbade him to go to the cinema, but his grandmother took him there in secret and he was awed by the experience. He lost his religious faith at an early age, and this and his conflicts with his father would develop into themes which ran through many of his later works - but he never lost his faith in the power of cinema to inspire, inform, and bring out the good in people.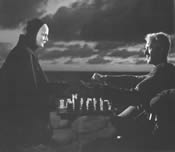 The Seventh Seal is currently on re-release in the UK
Over his lifetime Bergman won three Best Foreign Language Film Oscars, was nominated for three Oscars as a director and for five more as a writer. "I write scripts to serve as skeletons awaiting the flesh and sinew of images," he said of the latter work. He also received numerous awards at festivals and from the critics, and he was highly praised by other famous directors including Woody Allen, who considered him to be his greatest source of inspiration.
Bergman's brilliant career began modestly, when he managed a puppet theatre with performances put on by his sister and their friends. He started writing in his early twenties and enjoyed a lucky break when his play Kasper's Död caught the attention of a film company executive. This led to a contract for the adaptation of his unpublished novel, Hets, into a film directed by Alf Sjöberg; and when Sjöberg was delayed by other work, Bergman stepped in to complete the job. He went on to direct another 62 films, including classics Wild Strawberries, The Virgin Spring, Saraband and Through A Glass, Darkly. Ironically, his most famous work, The Seventh Seal, has just been re-released in the UK. Bergman's own favourite amongst his works was 1962's Winter Light, which he felt was the only one in which he had managed to get everything just the way he intended. He was unable to continue directing during the last few years of his life, but went on working as a writer, producing scripts for film and television. He also maintained his connections with the theatre, the other place where he had enjoyed working as a director.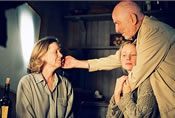 Liv Ullman, Julie Dufvenius and Ingmar Bergman on the set of Saraband © Sony Pictures Classics
Though Bergman's work was noted for its gloomy outlook, its dark themes and dry sense of humour, those who worked with him recall him as a man who was always laughing and entertaining others. He was very much an actors' director, eliciting powerful performances from his cadre of regulars. His semi-autobiographical late film, Fanny And Alexander, suggests that he also found a great deal of humour and pleasure in life on a personal level. He was married five times and had several other lengthy romantic relationships, and he was the father of at least nine children, including the film directors Eva, Mats, Anna and Daniel and the writer Linn Ullmann.
Bergman died peacefully at his home in Fårö, Sweden, early on Monday morning.
Share this with others on...