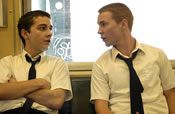 Martin Compston as Mike, right, with Shia LaBeouf as the young Dito
A Guide To Recognizing Your Saints is a New York-set drama – loosely based on the childhood of writer director Dito Montiel - about a man (Dito, played by Robert Downey Jr) who returns to the Astoria area streets of his youth. Strange then, perhaps, that one of the key actors is Scottish. Greenock-born Martin Compston (Sweet Sixteen, Red Road) plays outsider Mike, a childhood friend of Dito's.
More familiar with shooting gritty dramas in his homeland, America was a bit of a wind change for the 22-year-old.
"It was completely different," says Martin. "But I don't know if that's America or just Dito. He was always speaking to you during takes … that took a couple of days to get used to
"Dito was an absolute nutcase to start with. He is testament to the theory that if you want to go and do something you should just go and do it.
"He had never even written a short film or anything in his life. He wanted to cast the film solely with kids from Queens.
"Dito was a legend – he would just take people off the street and stick them in the film. The great thing about Astoria is that it has hardly changed at all."
It was in fact Mrs Sting – Trudie Styler, who produced the project – who was responsible for bringing Martin on board.
"She saw a couple of films I was in and a year ago she called me up. I didn't speak to Dito until I got the part."
Even though it's clear Dito had set ideas about what he wanted – "He was adamant with Downey. Do not copy anything I do. You're just here to play a role." – it seems he welcomed the cast's input.
"A lot was improvising," says Martin. "It's funny, writer/directors are the least precious about the script. But you stick to the narrative strictly.
"It is a brilliant script, loosely based on real life – but it's not true at all. My character is a cabbie in London and Laurie – Dito's sweetheart in the film – died a few years ago of Aids. The real guy is Irish. That's why I died my hair ginger. I don't know how many times I came home after a few drinks and shat myself when I looked in the mirror."
And it's not just the hair colour that frightens him, he has no desire to meet the real Mike.
"I'd be terrified to meet him. From what I hear he's a bit mad."
Share this with others on...