Eye For Film >> Movies >> Downsizing (2017) Film Review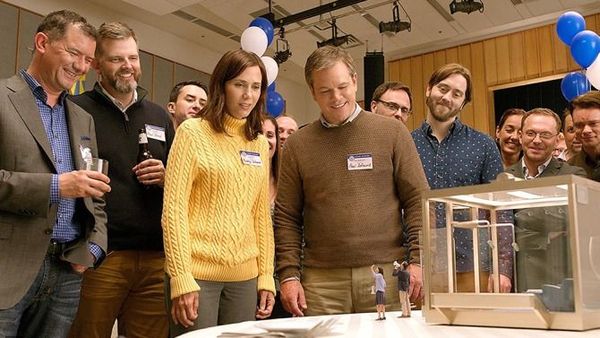 "What is the difference between troll and man?" asks the Troll King in Henrik Ibsen's Peer Gynt. The Old Man of the Mountain answers: "Out there, where sky shines, humans say: 'To thyself be true.' In here, trolls say: 'Be true to yourself and to hell with the world.'"
Our journey begins in a laboratory in Bergen, Norway, that looks like a big wooden toy box, Scandinavian style, with a white mouse and the ding sound of an egg timer. Scientist Dr Jorgen Asbjørnsen (Rolf Lassgård, ornery star of Hannes Holm's Oscar-nominated A Man Called Ove) has made a breakthrough discovery in his attempt to shrink humans to a five inch size and solve the problem of the world's overpopulation once and for all.

Our guide in Downsizing is Paul Safranek, an occupational therapist from Omaha, who wears company polo shirts and gets takeout at the pub and is played by Matt Damon with just the right touch of blandness and finite likability. One of the actor's great talents is that we follow him anywhere. Like a child in the playground who effortlessly convinces other children to join a game without them realising it. Not because of charisma, but because you almost forget that he is there. His experiences become ours. He is the champion of reactions.
Damon's Everyman is contemplating to have himself downsized for at least two convincing reasons.
1. It's good for the environment. At a televised conference it is demonstrated that the waste of 26 shrunken people - the original Norwegian test colony - over four years, does not even fill up one large black garbage bag.
2. Paul's wife Audrey (Kristen Wiig) wants a bigger house and is unhappy about their financial situation. When you are small, your money is worth a lot more.
In a poignant scene, the childless couple look with a real estate broker at a spacious tacky house they can't afford. It is tasteless, mediocre, with no history, no style, no life, and Audrey loves it for what it represents. It is a dwelling so small in spirit and personality and so easily reproducible that it forewarns of things to come.
At an alumni reunion Paul and Audrey attend - possibly the most nightmarish of all the many settings in this film - you can feel the general resentment in the air. Contained self-hatred masked behind smiles is only topped by contempt for the others - all safely under wraps. A downsized couple makes their entry to pitch Leisureland, a small community that will solve all problems with a leisure filled life.
Jason Sudeikis as Dave Johnson sits on a cracker box, he himself the approximate size of one of the cheddar wedges behind him on the table, with spilled blotches of red dipping sauce at his feet, and gives a grandiose sales talk to his pal Paul about the sister colony in Tuscany and all the other advantages their small life provides for them.
The lure works and the Safraneks end up checking out Leisureland Estates. 20th century World's Fair or Disney projects when Walt was still alive may come to mind as Ella Fitzgerald croons "Heaven, I'm in Heaven" when they arrive for a visit. The houses are stuck a little later in time, namely the pompous blandness of what Eighties TV shows sold as luxury. Neil Patrick Harris and Laura Dern are creepily hilarious as Jeff and Laura Lonowski who advertise their vulgar, garish lifestyle of cheap diamonds and afternoon bubble baths to prospective new downsizing customers. Also watch out for a mini Margo Martindale who travels with the Safraneks on the shuttle.
Alexander Payne's latest, unclassifiable film gallivants with us through a number of different worlds that all seem familiar, yet perplexing, fishy and mundane, with man-made constructions recognizably unsightly and nature gigantically divine. Time jumps effortlessly, five years, ten years without much fuss. In tales people sleep for a hundred years without a problem, they shrink and grow or turn into donkeys. The science in Downsizing shares that matter-of-fact magic we don't question.
Wendy Chuck, the director's brilliant longtime costume designer, who also gave us newsroom clothes perfection in Tom McCarthy's Oscar-winning Spotlight, shows her expertise of capturing the essence of a moment. This time, she outfits very disparate domains with more layers than ever. The cut and color of Wiig's sweater at the class reunion in (the state of) Nebraska, the faded kurtas at the original colony village in the fjords, demonstrative party outfits in Leisureland - all of them speak about reality and aspiration.
Downsizing, co-written with Jim Taylor, evokes a dimension of folktale disposition. There were hints at lost lore in the juxtaposition of nature shots and gold-plated man-made edifice monstrosities in the Hawaii of Payne's The Descendants. The production design by Stefania Cella (Paolo Sorrentino's Oscar-winning The Great Beauty) and the cinematography by Payne regular Phedon Papamichael spark distinct visual realms.
Inklings about the possible abuse of voluntary vulnerability are woven together artfully with the hilariously absurd details of the actual physical transformation. After wedding-ceremony-like vows are spoken, valuable trinkets stored in a keepsake box, exceptional side effects explained, the genders are separated and physical preparation for the "mass reduction" can begin.
Not to go into too much detail, but the Hasidic Jews in the waiting room and the following procedure concerning hair and teeth can make you hold your breath, only to let out a sigh of relief when the little men are scooped up with kitty litter-like shovels to start their freshly-minted miniature careers. I was reminded of the new-chance-of-life eeriness of John Frankenheimer's Seconds and the futility of buying yourself a meaningful existence.
Nothing goes as planned for Paul as he will have to make some decisions on his own. While working in a cubicle answering phone calls for Land's End, Paul's private life without Audrey at first stagnates (his friend Dave suggests "single moms" as if they were a cereal flavour), then soars after his neighbor upstairs in the high-rise he now lives in invites him to one of his wild parties. Dusan Mirkovic (Christoph Waltz) is a Serbian businessman and together with his partner Konrad (Udo Kier) he gives the miniature high society the excesses it desires.
Waltz revels in the party boy sleaziness and his Dusan is monstrously full of himself and totally believable. Kier speaks one of the most memorable lines of the movie: "That's the wonderful thing about being small - suddenly you are very rich - unless you are very poor - then you are just small." After a night that got out of hand, Paul wakes up on the carpet in Dusan's apartment to the sounds of the cleaning crew coming in. Among them is Ngoc Lan Tran (Hong Chau) who lost half of her leg and is the only survivor of a group of refugees who arrived in a TV box from Vietnam after having forcibly been downsized.
Chau, (unforgettable also in Paul Thomas Anderson's Inherent Vice) from the first moment on, lifts Downsizing to another level of brilliance. It is as though her comedic timing, the delivery of her lines, her pirate's peg leg, her character's no-nonsense worldview, her caring heart, and the pitch of her voice all came together as a reminder what humanity means.
Lan, the cleaning lady with the bad prosthetic, shows Paul another world outside the wall of Leisureland. A tenement complex, built in what looks like a rusty container, houses the abject of this mini world - the poor and the dying, who speak languages other than American - they are the ones that are just small according to Konrad.
Yet, this space is the most compassionate, warmest, most appealing we see. There is a gigantic screen in the center, a sort of interior town square where the inhabitants sit together and watch movies. No infomercial praises the virtues of consumerism, instead, Sube Y Baja, a Mexican comedy from 1958 with Cantinflas, is playing and you just want to sit there and join them. This location is a stunning twist on Metropolis and a lovely valentine to the power of cinema.
Paul and Lan bond in the way the statue and the swallow bond in Oscar Wilde's tale The Happy Prince (and not just over the fact that everybody mispronounces their names). Suddenly there is purpose that cannot be found in amassing objects. A trip to the original downsized colony in Norway answers a few other important questions, in case we forgot that the future of our planet is at stake.
Reviewed on: 23 Dec 2017
Share this with others on...