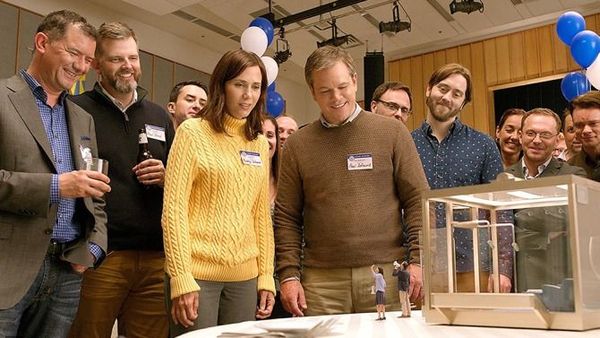 Downsizing: 'Wiig's departure is a blow from which the film never quite recovers'
Photo: Courtesy of Venice Film Festival
Back in the day, and much like Cannes, the
Venice Film Festival
was prone to the opening-night blues, kicking off with films that appealed to cineastes but not so much to the mainstream public. But somewhere along the way its fortunes changed, and one can probably pinpoint 2010 – when Darren Aronofsky's much-anticipated
Black Swan
did the duties – as the year the festival's curtain-raiser suddenly became the media's bellwether for potential Best Picture Oscar-winners. Venice has certainly had a good run since, notably with
Gravity
and
Birdman
in quick succession, but this winning streak has brought with it a set of expectations that few films can ever hope to deliver.
Baltasar Kormákur's Everest – ironically, a tale of braving the odds – tried and failed, before last year's La La Land briefly promised to restore the status quo. But with Alexander Payne's Downsizing, there is a feeling that the festival may have another glittering white elephant on its hands, as it did with previous openers such as the Coens' Burn After Reading or George Clooney's The Ides Of March, films that were critically admired rather than loved and never found an audience. Downsizing checks the right boxes, having a director with an arthouse pedigree and an A-list star known for intelligent choices while telling an ambitious story, but somehow it fails to coalesce into anything truly substantial.
Matt Damon plays Paul Safranek, a blue-collar worker dissatisfied by his life; by chance, he hears about a new process invented in Norway, where scientists are shrinking volunteers to a fraction of their human size. In miniature form, these people are pioneering a new kind of green revolution, enjoying vast houses and swathes of land at a fraction of the prices in the normal world. Paul and his wife Audrey (Kristin Wiig) sign up, which is surely the cue for a domestic satire, but instead Audrey bows out with almost indecent haste, leaving Paul to undergo the process by himself and navigate life as a short and single man in a new and somewhat sterile world.
Suburbicon: 'The film's key strengths are its performances, notably Oscar Isaac'
Photo: Paramount Pictures
Although, like
Sideways
before it, Downsizing is steeped in melancholy from the off, Wiig's departure is a blow from which the film never quite recovers, resulting in a mid-section lull that Payne tries to break with the introduction of a one-legged Vietnamese refugee dissident named Ngoc Lan Tran (Hong Chau), whose whirlwind energy galvanises the last stretch. Because, funnily enough for a film with such an outlandish premise, Downsizing isn't so concerned with the miniaturisation itself – once it's out of the way, it's barely mentioned, and the peculiarities of "getting small" are all but forgotten, except in lovely touches such as an dainty jewellery case that, after the irreversible shrinking process occurs, returns on wheels as a full-size removals van.
Inspired, too, is the casting of Christoph Waltz as Paul's bootlegger neighbour, who imports perfume and cigars and who knows what else from the outside world, as well as Udo Kier as the worldly sea captain who travels the oceans by FedEx. But Downsizing starts high and finishes low, making some amusing observations about the Just About Managing generation while never really coming to any particular points about the subjects it whimsically tilts at.
Surprisingly, Venice chose not to open with George Clooney's Suburbicon, a much more timely social satire that very much has its roots in Donald Trump's America. But after the press screening, it was perhaps clear to see why; Clooney's film drew an extraordinary and quite inexplicable amount of critical flak for daring to adapt a very (early) Coen brothers script in a very (early) Coen brothers way. The story begins with a well-to-do black family moving into the affluent white enclave of Suburbicon, drawing the ire of the community. As tensions clash, another story unfolds in the house behind, where Gardner Lodge (Matt Damon) lives with his disabled wife Rose (Julianne Moore) and his son – two doughy white gangsters hold the family hostage, in a home invasion that results in the death of Rose. Is this a reprisal for the Gardner boy's friendship with the black boy across the way? The film keeps us guessing for a while, before revealing a Double Indemnity-style intrigue that reveals itself with ever more bloody confusion as the mini-race riot next door spirals horribly out of control.
The Shape Of Water: 'The right mix of aesthetics, heart and sheer technical mastery'
Photo: Fox Searchlight
Clooney has fun with the Coen-esque flourishes, which frequently pass for the real deal, but the film's key strengths are its performances, notably Oscar Isaac, who pops up as a snooping investigator looking into a suspicious claim on Rose's life insurance. Moore is fantastic too, as Rose's neurotic twin sister Margaret, while Damon keeps his powder dry until the chilling climax. Best of all, though, is Clooney's seemingly wild-card decision to set this satirical neo-noir against a backdrop of racial hatred; while the locals act like animals trying to drive out the innocent newcomers, they are wilfully blind to the evil in their midst.
Hollywood will probably be kinder to George than the European press, and Suburbicon may yet emerge as a significant awards-season player. So too, it seems, will be Guillermo Del Toro's The Shape Of Water, another film that could easily have done the first-night honours. It's been a while since Del Toro has reigned in his comic book tendencies, which sometimes threatened to take him off into artfully vapid Tim Burton territory, but his latest is just the right mix of aesthetics, heart and sheer technical mastery that will re-endear him to the non-fanboy crowd. Set in the American '50s, it Sally Hawkins as Eliza, a mute woman who cleans at an airforce base. A top-secret project is brought in, which Eliza discovers to be a brightly coloured fish-man (Doug Jones), to whom she is instantly attracted. However, trouble arrives in the shape of Strickland (Michael Shannon), a cold-hearted CIA operative who wants to see the amphibious creature vivisected, to help NASA create breathing apparatus for astronauts.
Del Toro's, shall we say, singular vision – which includes monster sex and some surprisingly strong violence – may keep more mainstream success at bay, but The Shape Of Water looks to be his biggest film so far, a beguiling adult fairytale whose shimmering, dreamlike visuals gloss over the sometimes schematic story.
Read Venice 2017 Part Two: Three Billboards Outside Ebbing, Missouri, Lean On Pete, Victoria And Abdul and The Third Murder.
Share this with others on...