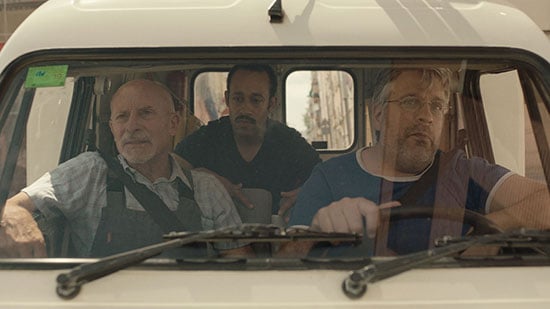 The Odd-Job Men
Photo: Courtesy of London Film Festival
Iberdocs is returning to Edinburgh and Glasgow for its ninth edition next month. The documentary film event, which includes six UK premieres, will run from April 6 to 10. After that, it will move to an online edition, with films available to stream from April 11 to 17.
The Festival opens in Edinburgh with Neus Ballús' award-winning hybrid documentary/fiction comedy, The Odd-Job Men - which sees a young Moroccan plumber dealing with his colleagues on the first week on the job.
This year's edition is dedicated to territory, belonging and migration, with audiences invited to participate in the Q&A sessions with the filmmakers after the screenings. This year's events include an animation workshop, movie gatherings and a party.
If you like your films on the experimental side there's Rocío Huertas' La Alameda 2018, exploring the sense of community and how we relate to our city. After the screenings at both the Banshee Labyrinth in Edinburgh and the Glasgow Centre for Contemporary Arts, Rocío will be taking part in a live Q&A. She will also host a free animation workshop prior to her film screening in Edinburgh.
Alongside the features, there will also be a series of shorts, including several nominated for the 2022 Goya Awards, including the UK Premiere of Nacho Fernández's Extra.
The organisers of IberoDocs are once again committed to ensuring that all elements of the festival are as accessible as possible. Several of the films which have Q&As will have BSL interpretation available, as well as several with English closed captions. All films (both in-person and online) will have English language subtitles. Spanish and English Language interpretation is kindly provided on a volunteer basis by students from the Languages and Intercultural Studies (LINCS) department at Heriot-Watt University.
Festival director Mar Felices said: "We're overjoyed to finally return to the theatres and the big screen. On top of that, we are doing so in the company of amazing artists - both emerging and well established- for whom I feel the deepest admiration. I can't wait to start again meaningful conversations about issues that as a migrant myself I frequently evaluate."
For full details of the programme visit the official site.
Share this with others on...