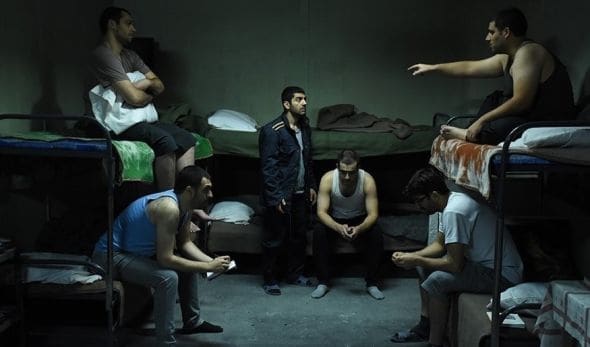 The festival will open with There Is No Evil
Photo: Courtesy of Vilnius International Film Festival
Vilnius International Film Festival starts its 26th edition tomorrow (March 18) and is embarking on a groundbreaking initiative in a bid to retain a festival experience for its audiences during the pandemic.
The festival, which runs until April 4, will turn bedrooms into screening rooms at six of the Lithuanian capital's hotels and host red carpets for locals in addition to its online screenings. There will also be goody bags for guests and the full line-up of the festival will be available to screen via the television in their room.
Festival CEO Algirdas Ramaška said: "When you cannot go outside and the media is blowing up with negativity, it is hard to stay sane. We help people to redirect their attention to more positive thoughts."
Festival programmers Aistė Račaitytė, Marija Fridinovaitė, Andrei Tănăsescu led by Artistic Director Mantė Valiūnaitė have curated the cross-sectional theme "To Act and/or To Be". Diverse in geographical and historical sense, the selected films tackle the choice between acting and being on various levels, such as the philosophical, ethical, political, psychological, social and environmental.
Classics like Portrait Of Jason by Shirley Clark are in the line-up alongside Berlin Golden Bear and Silver Bear winners Bad Luck Banging or Loony Porn by Radu Jude and Dénes Nagy's Natural Light. The festival will open with last year's Golden Bear winner There Is No Evil, Mohammad Rassoulof's multifaceted consideration of the death penalty, and close with Greek film Apples - Christos Nikou's drama about a man who suffers amnesia in a memory loss pandemic.
There are 104 features and 44 short films in the line-up, which also includes Oscar nominee Quo Vadis, Aida? and the world premiere of homegrown film People We Know Are Confused, by Tomas Smulkis.
Share this with others on...