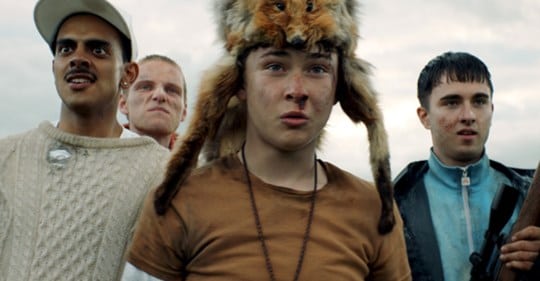 Boyz In The Wood
Photo: Courtesy of EIFF
Edinburgh International Film Festival
has announced it will open its 73rd edition with Boyz In The Wood, on 19 June.
The social satire, directed by first-time feature filmmaker Ninian Doff, stars Eddie Izzard who plays a mysterious Highland hunter who four city boys are trying to escape, as the police force trails behind.
The cast includes established stars Kate Dicke and James Cosmo, alongside newer names Rian Gordon, Samuel Bottomley, Viraj Juneja and Lewis Gribben.
Music video director Doff, who also wrote the script for the film, was one of the first graduates of film group SKAMM (Scottish Kids Are Making Movies), held at Edinburgh Filmhouse and run by Shiona Wood, to whom Doff dedicates the film to in the closing credits.
Doff said: "It's hard to put into words what a huge honour it is for me to have Boyz In The Wood open the EIFF 2019.
"I'm from Edinburgh and for my debut film I really wanted to make a film that captured a very particular Scottish joy, madness and humour; and that was also modern, political and forward looking. Everybody, both cast and crew, brought so much passion and energy to make this film and it's going to be very special for it to have its European Premiere, not only in my hometown, but also at such an important festival."
EIFF artistic director Mark Adams added: "We are thrilled to be opening this year's festival with this vibrant, energetic and wonderfully raucous new film that showcases a wide range of Scottish talent, from rising stars to established performers. Boyz in the Wood is a blast from start to finish and will start EIFF perfectly."
Ninian Doff and the cast are expected to attend.
Share this with others on...