Patrice Leconte at the launch of this year's Mobile Film Festival in Paris, flanked by fellow jurors Amelle Chahbi and Ruben Alves
Photo: Richard Mowe
As a way of opening up the world of cinema to budding filmmakers who have talent, ingenuity and a smart phone the Mobile Film Festival has been nurturing opportunities for new generations for the past 13 years.
At a launch for the current edition in Paris, the festival's founder Bruno Smadja said: "Smartphones are easily accessible by young filmmakers today, anywhere in the world, and with impressive filming quality. And the use of one same affordable technology by all participants gives the event its egalitarian and inclusive characteristic."
The challenge set for all entrants is to tell a story in one minute. "This is what the audience likes and what convinces our jury in their selections: the motions these shorts manage to convey in only one minute."
This year's jury president Patrice Leconte - who has been responsible for such contemporary classics as The Hairdresser's Husband, Monsieur Hire, Girl On The Bridge and Ridicule - was sceptical of the idea. Speaking in the Hotel Scribe in the same room as the Lumière Brothers first showed their silent films to an amazed Parisian public more than 100 years ago, Leconte explained: "I had already been asked to be president of this jury a few years ago but I always said, 'No' because I was very much against the concept. Then I realised I was fighting a losing battle because all methods of making cinema are valid these days.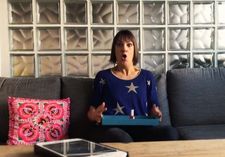 A scene from A Friend Who Wishes You Well (Un ami qui vous veut du bien) by Raphaël Daniel, one of the contenders in Mobile Film Festival 2018
"I am not really a fan of smartphones because I hate seeing youngsters in the Metro watching films on their phones and I hope I never surprise anyone watching one of my films on their phones. What made me change my point of view was watching some of the selected films that had been made on phones for this festival. I saw some excellent films by film-makers who were able to express themselves in one minute with interesting subjects and in a cinematographic way - which is why I decided this time to say Yes to the invitation."
The public can vote online for their favourite short film while the jury will give their verdicts on the award-winners. A prize ceremony will be held at Paris cinema in March, reuniting the film teams from all over the world with a screening of the selected shorts and winners on the big screen. There are two grants on offer of 15,000 euros from BNP Paribas bank for production and two grants of 3000 euros from the CNC (Centre national du cinéma et de l'image animée) for screenwriting.
Leconte's jury also comprises actor and director Ruben Alves, editor Anne-Sophie Bion, actress and singer Stefi Celma, actress and director Amelle Chahbi, actress Alice David, actress Lola Dewaere, actor and director Pascal Elbe and agent Celine Kamina.
You can find more details and view and vote on the official 2018 selection at mobilefilmfestival.com
Share this with others on...