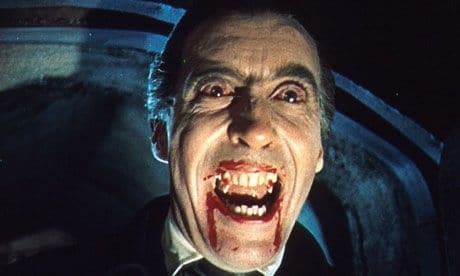 Sir Christopher Lee as Dracula
He's still the first person many people think of when they hear the name 'Dracula', but Sir Christopher Lee's acting achievements went far beyond his work for Hammer Studios, taking in The Lord Of The Rings, the James Bond franchise and more. Now he has died at the age of 93.
Starring in over 200 films, Lee delivered many iconic performances. He was first seen as the Count in Horror Of Dracula and he later became one of James Bond's most dangerous foes, The Man With The Golden Gun. To Lord Of The Rings fans, he was Saruman; to Star Wars fans, Darth Tyranus. He also featured in The Wicker Man, made a memorable Rasputin, and played the hero's smarter older brother in The Private Life Of Sherlock Holmes. Despite all this, he still found room to appear in numerous independent horror films and do a considerable amount of television work.
Alongside his acting work, Lee wrote books, recorded audio versions of horror classics, enjoyed a singing career and released two symphonic metal albums.
Lee passed away on Sunday following treatment for heart failure and respiratory problems. He spent his final birthday in hospital. His wife Birgit chose to delay the announcement in order to inform family members first. He is survived by a daughter, Christina Erika Carandini Lee.
Share this with others on...