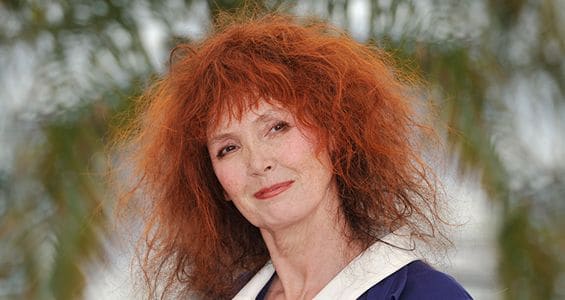 Sabine Azéma, president of Camera d'Or jury for best first film in Cannes
French actress Sabine Azéma will preside over the Caméra d'or Jury this year, to select the best first film presented in
Cannes
.
The star - who admits to a long-running love affair with Britain like her late mentor and companion Alain Resnais - is the latest to hold the role after previous prsidents Bong Joon-Ho, Gael García Bernal, Carlos Diegues and Nicole Garcia. The prize is dedicated to first-time directors.
Her jury will comprise director Delphine Gleize, actor Melvil Poupaud, Claude Garnier representing the AFC (French Association for Cinematographers), Didier Huck, representing the FICAM (Federation of Cinema, Audiovisual and Multimedia Industries), Yann Gonzalez, representing the SRF (Society of Film Directors) and Bernard Payen, representing the SFCC (French Union of Cinema Critics).
Azéma is not afraid of subjecting herself to ridicule or indignity in the cause of her art. She cares not a jot for appearances, always willing to push herself to whatever limits the role demands.
With her elfin, freckled features, striking red hair and slender frame she could be a willowy rose - but under the surface there are prickly thorns ready to ensnare and protect. In conversation she's very touchy-feely ("my French side," she explains) but she's also given to wicked outbursts of laughter, claimed as an English trait.
She once said: "Let me tell you something which may make you laugh, but in France people are always saying that I am more Anglo-Saxon than French and that I am more like British or American actresses than French ones. Why? I suspect it's because I do not mind in the least about making fun of myself or being made fun of. Whatever is required by a role, I'll do it. Many French actresses, on the other hand, still like to maintain an air of elegance and superiority no matter what, whereas I am happy to throw everything up in the air."
Recently she threw everything up in the air again for Resnais' last film, Life Of Riley (Aimer, boire, et chanter), which he made at the venerable age of 90, and which is released on DVD in the UK later this month.
Resnais and Azéma, whose personal and professional history together goes back to 1983 and La vie est un roman with Geraldine Chaplin and Vittorio Gassman, collaborated on bringing Ayckbourn to the screen in the double-edged Smoking/No Smoking, adapted from six playlets.
Azéma claims to have been spoiled by the chances she has been offered. Her luck started early on when she was a struggling young actress in Paris, recently graduated from the Conservatoire. At the point where she was wondering exactly how she was going to make a living in her chosen profession, she was invited by a friend to come along to the theatre, the Comédie des Champs-Elysées where Jean Anouilh was trying to cast a production of The Waltz Of The Toreadors with the legendary Louis De Funes. She turned up, tried out a scene with De Funes - then found Anouilh at her side saying: "Quick sign your contact, you're hired." Her performance garnered enough attention to ensure she stood out from the crowd of acting hopefuls.
Other offers followed including one from Alain Resnais which marked the start of their mutual collaboration both off and on the screen.
Reflecting now on those auspicious beginnings she can only say: "It all seemed so easy." Azéma's response displays yet another British trait - the art of understatement.
Azéma will bestow the prize at the Awards Ceremony on Sunday, May 24.
Share this with others on...