Barry Ward and Simone Kirby in Ken Loach's Jimmy Hall - destined for Cannes 2014 ?
With only a week to go before the announcement of the official selection for this year's Cannes Film Festival Richard Mowe looks at the potential contenders.
A week today (17 April) all will be revealed by artistic director Thierry Fremaux at the media launch in Paris of this year's 67th edition of the Cannes Film Festival, running from 14 to 25 May.
Tantalising morsels have been dangled by informed sources such as Ken Loach's Jimmy Hall which if selected would mark his 12th time on the Croisette including the Palme d'Or in 2006 for The Wind That Shakes The Barley and two years ago with The Angels' Share. A portrait of the Irish communist leader James Gralton (Barry Ward) Loach's new film is said to be the director's swansong before he retires from fiction film-making.
Ken Loach - will he return to the Croisette with Jimmy Hall ?
Stephen Frears could also bolster a strong UK line-up with his as yet untitled feature about disgraced cyclist Lance Armstrong, played by Ben Foster.
Other names in the frame include Emir Kusturica, another previous Palme d'Or recipient in 1985 for My Father Is Away On Business, with his new feature Love And Peace as well as the latest from the Beglian Dardennes brothers (Grand Prix in 2011 for The Kid With A Bike and two Golden Plams for Rosetta in 1999 and The Child in 2005) with a new film Two Days, One Night starring Marion Cotillard.
More familiar names from the Cannes coterie who look likely to find a Riviera berth are Jean-Luc Godard with Adieu Au Language; Mike Leigh with Mr Turner (Palme d'Or winner in 1996 with Secrets And Lies) featuring Timothy Spall as the English painter; Winter's Sleep by Nuri Bilge Ceylan and Dane Thomas Vinterberg with his adaptation of Thomas Hardy's Far From The Madding Crowd (previously filmed by John Schlesinger) while fellow Scandinavian Thomas Andersson has the intriguingly titled A Pigeon Sat On A Bench Contemplating Existence in prospect.
Canada could be represented by both David Cronengberg and Atom Egoyan with respectively Map To The Stars in which Robert Pattinson stars in a satirical critique of the entertainment industry, and The Captive with Ryan Reynolds. Quebecois veteran Denys Arcand also has ready Régne De La beauté and the much-vaunted Xavier Dolan has Mommy on offer.
Another hot tip for inclusion is Abel Ferrara's take on disgraced French politician Dominique Strauss-Kahn ironically titled Welcome To New York with Gérard Depardieu as DSK while Ryan Gosling's directorial debut How To Catch A Monster may also prove tempting to the selectors. It's a fantasy-thriller with Christina Hendricks, Eva Mendes, Matt Smith and Saoirse Ronan.
A regal wave from Nicole Kidman as Grace of Monaco with Tim Roth
Cannes favourite Terrence Malick's Knight Of Cups with Christian Bale, Natalie Portman and Cate Blanchett will have some preview footage shown to potential investors but will not be ready for inclusion.
Meanwhile Clint Eastwood directs the musical Jersey Boys (due for international release in June and therefore perfect for timing), a big-screen adaptation of the Tony award-winning show about the rise and fall of Frankie Valli and the Four Seasons. Christopher Walken, Freya Tingley, and James Madio figure among the cast.
Mexican director Alejandro Gonzalez Inarritu makes a change of tack for a uncharacteristic foray into comedy for Birdman with Michael Keaton as a famous actor struggling to mount a Broadway play. As a Cannes habitué since Amores Perros (Critics' Week grand prix winner in 2000) he seems a certainty.
France as always looks likely to have a strong representation with possibilities comprising among others the second film about the fashion icon Saint Laurent from Bertrand Bonello; Robert Guédiguian's Au Fil D'Ariane; Olivier Assayas's Clouds Of Sils Maria featuring the compelling pairing of Juliette Binoche and Kirsten Stewart; Eden from Mia Hansen-Love (Assayas's parter); Bird People by Pascale Ferran, a relationships drama with Josh Charles (of The Good Wife fame); Le Chambre Bleue by Mathieu Amalric, a Georges Simeon adaptation; and L'Homme Qui Savait Trop by André Téchiné.
There is also much speculation around the new film by The Artist's Michel Hazanavicius, The Search with Bérenice Béjo who last year won a best actress award for her role in The Past. It is a loose adaptation of Fred Zinnemann's film The Search, which was made in 1948 and featured Montgomery Clift. Hazanavicius has transferred the conflict from the Second World War to the Chechen conflict with the Russians. Béjo plays a resistance fighter.
One of France's favourite auteurs, Woody Allen, could stage a Riviera return with Magic In The Moonlight, shot in the South of France with Emma Stone and Colin Firth. Expect to see midnight screenings of Larry Clark's The Smell Of Us shot in Paris last year. More high profile shots include Dragon 2, the new animated feature from Dreamworks, as well as Edge Of Tomorrow from Doug Liman, with Tom Cruise and Emily Blunt, and Maleficent by Robert Stromberg, with Angelina Jolie, due for an end of May release in France and described as a "revisionist take on the Sleeping Beauty fairy tale."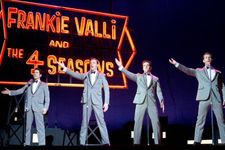 Clint Eastwood's Jersey Boys is another Cannes contender
What we do know for sure is the opening film - Olivier Dahan's Grace Of Monaco, starring Nicole Kidman as the Hollywood star turned princess, will open the festival in an out of competition slot. The production has been beset by controversy after producer Harvey Weinstein reportedly upset Dahan by re-editing the film. When Dahan, who made La Vie En Rose, the Piaf biopic with Marion Cottilard, saw the revised version, he described it as "a pile of shit."
Obviously the inclusion in the high profile opening slot at Cannes suggests the two have reached an accommodation. Also starring Frank Langella, Parker Posey, Derek Jacobi, Paz Vega and Tim Roth (as Prince Rainer), the production was shot in France, Italy and Monaco in Autumn 2012. It centres on a period in 1962 when De Gaulle established an economic blockade on the small principality over its status as a tax haven.
Whatever the final line-up announced on 17 April Jane Campion (a Palme d'Or winner for 1993′s The Piano) will have her work cut out as President of the Competition jury who will reveal their winners on Saturday 24 May.
Richard Mowe will be filing daily news, reviews and interviews exclusively for Eye for Film during the Cannes Film Festival.
Share this with others on...