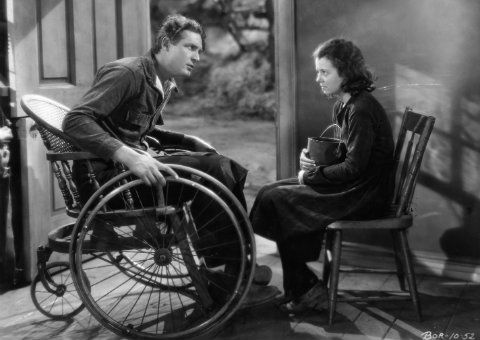 Lucky Star is the Friday night gala.
The Hippodrome Festival of Silent Film has begun in Bo'ness, West Lothian, and celebrates its fourth edition with a gala screening of Frank Borzage's Lucky Star tonight, featuring live accompaniment by Neil Brand.
Other highlights include a Jeely Jar Saturday morning screening (March 15) featuring Buster Keaton's The Blacksmith (showing for the first time with half a reel of lost footage) alongside two unsung comedy heroes of the silent screen- the anarchic and inventive Charley Bowers and master of the comedy-of-embarrassment Charley Chase.
They will also host the first ever Scottish performance by The Aljoscha Zimmermann Ensemble with Nosferatu director F.W Murnau's influential masterpiece of German cinema Der Letzte Mann (The Last Laugh) (March 15)
Plus Jane Gardner has created and will perform an exclusive new score for Yasujirô Ozu's take on the American gangster genre Dragnet Girl (Hijôsen No Onna) (March 15). Featuring good-time gals, small-time hoodlums and virtuous women, this neon-lit crime melodrama is introduced by Chris Fujiwara, Artistic Director of the Edinburgh International Film Festival.
Public participation and community outreach are stronger than ever at the 2014 Festival. As well as the return of New Found Sound on March 16 - which sees secondary school pupils from across the Falkirk Council area working with Thomas Butler (Sound and Music composer-in-residence with the Red Note Ensemble) to compose, improvise and perform music for a specially curated selection of Scottish archive shorts - the 2014 Youth Engagement Programme takes the spirit of the Festival out to the local community.
Janet Archer, Chief Executive at Creative Scotland commented: "It's great to have the Bo'ness Silent Film Festival back for another year, and with such a varied and exciting programme available, I'm sure it will be as popular as ever. It's fantastic to see the Hippodrome maintaining and enhancing its original features from the classic age of cinema to the modern changes of the present day, allowing the venue to continue providing quality cinematic experiences for its audience."
Tickets for all events are on sale now from www.hippfest.co.uk or by calling the Hippodrome Box Office on 01324 506850.
Share this with others on...