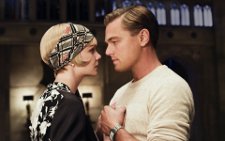 Leonardo DiCaprio as Jay and Carrey Mulligan as Myrtle in The Great Gatsby, which will open Cannes
Baz Luhrmann's
The Great Gatsby
will open the 66th edition of
Cannes Film Festival
on May 15 with a suitably stellar presence, including Leonardo DiCaprio in the title role of F Scott Fitzgerald's conflicted hero.
The Australian director's film was supposed to have opened at the end of last year but was delayed due Warner Bros wanting to make "refinements" to the production, which will be screened in 3D.
Other stars set for the red carpet in Cannes are Tobey Maguire, who narrates the story as Nick Carraway, Carrey Mulligan, Joel Edgerton and a legendary star of Indian cinema Amitabh Bachchan as well as American rapper Jay-Z.
Luhrmann, who provided a memorable Cannes opening night with Moulin Rouge in 2001 (and before that with Strictly Ballroom in the sidebar Un Certain Regard strand in 1992), declared: "It's a great honour for everyone who has worked on the production to be chosen as the opening film for Cannes."
The Great Gatsby, co-adapted by Luhrmann and Craig Pearce, will open in France on the same day as the Cannes premiere and in the UK two days later on May 17. It is due for release on the US on May 10.
It was already been announced that Steven Spielberg will preside over the Competition jury.
Watch the trailer for The Great Gatsby:
Share this with others on...