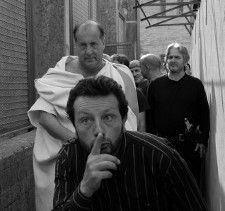 Italian docudrama Caesar Must Die (Cesare Deve Morire) has won the Golden Bear at the 62nd Berlin Film Festival.
The film, directed by Paolo and Vittorio Taviani, follows the inmates of Italy's Rebibbia prison as they stage a production of Shakespeare's Julius Ceasar.
Accepting the word, veteran director Vittorio said: "I hope that someone, going home, after seeing 'Cesar Must Die' will think that even an inmate, on whose head is a terrible punishment, is, and remains, a man. And this thanks to the sublime words of Shakespeare,"
The Grand Prix Silver Bear was awarded to Bence Fliegauf's Just The Wind (Csak A Szél), a Hungarian drama inspired by real-life attacks on Roma communities, while Germany helmer Christian Petzold took home the director's Silver Bear for his critically well-liked Barbara.
The acting Silver Bears went to Rachel Mwanza for her portrayal of a Congolese child soldier in War Witch (Rebelle) and Mikkel Boe Folsgaard for his role in Danish period film A Royal Affair (En Kongelig Affære). A Royal Affair's Nikolaj Arcel also picked up a Silver Bear for scriptwriting, while a Silver Bear for outstanding artistic contribution went to Lutz Reitemeier for the photography in White Deer Plain (Bai lu yuan).
Miguel Gomes' Tabu won the Alfred Bauer prize for innovation.
The eight-member jury, lead by British director Mike Leigh, also included actor Jake Gyllenhaal and Asghar Farhadi, the Iranian director of last year's Golden Bear-winning A Separation.
The Golden Bear for best short film went to Rafa, directed by João Salaviza, the short film Silver Bear was won by The Great Rabbit, by Atsushi Wada.
Earlier in the week, Meryl Streep received an honorary Golden Bear for her lifetime achievement.
Read our full coverage of the Berlinale here
Share this with others on...