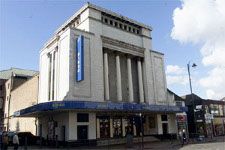 The historic Granada Cinema in the London borough of Waltham Forest may be restored to its original use thanks to a dedicated local charity and supportive local council. Each has pledged to contribute funds to the project, for which initial planning permission has been given.
People living in the area will remember the cinema as a thriving arts venue that showcased live bands (including The Beatles and The Rolling Stones) as well as screening independent films. It is a grade II listed building with a magnificent entrance foyer, and although it has been out of use for some years it is believed that it could be restored to closely resemble its original condition.
The cinema is currently owned by the United Church of the Kingdom of God, but they have been unsuccessful in their repeated attempts to have it reclassified as a place of worship. It is not yet known whether they will appeal the planning decision.
Share this with others on...