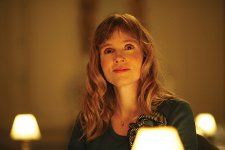 The French Film Festival has announced the first details of its 19th edition, which will include bitter-sweet comedy Romantics Anonymous (Les emotifs anonyms) as its opening night film. The film, which stars Isabelle Carré and Benôit Poelvoorde tells of the unlikely romance that develops by two crushingly shy people with a shared love of chocolate.
The festival, which runs from November 9 to December 4 across the UK, will also feature 100th anniversary screenings of the second instalment in Louis Feuillade's Fantômas silent serial, Juve contre Fantômas as part of its closing weekend. The screenings will be accompanied by a live electronic score performed by two cult Parisian DJs Radiomentale.
The festival will feature a wide-ranging line-up of French language productions from France, Quebec, Switzerland, Luxembourg and Belgium, including actor Daniel Auteuil's first foray behind the camera for a sumptuous adaptation of Marcel Pagnol's The Well-Digger's Daughter (La fille du puisatier) with Auteuil playing the role taken in the 1940 original by Raimu and Kad Merad taking on the part once played by Fernandel.
Other highlights will include Cannes best actor Jean Dujardin, who will appear in The Clink of Ice (La bruit des glacons), by veteran director Bertrand Blier, as well as A View of Love (Un balcon sur mer) directed by Nicole Garcia.
Other anticipated titles include from Philippe Claudel's All the Suns (Tous les soleils), with Stefano Accorsi and Anouk Aimée, Service Entrance (Les femmes du 6eme etage) starring Fabrice Luchini, Sandrine Kiberlain and Carmen Maura, Small World (Je n'ai rien oublié) with Gérard Depardieu, and Robert Guédiguian's Pagnolesque Cannes entry The Snows Of Kilimanjaro with Jean-Pierre Darroussin and Ariane Ascaride.
The guests of honour will include irector Christophe Honoré, whose latest venture The Beloved (Les biens-aimées) was the closing choice for this year's Cannes Film Festival and features mother and daughter Catherine Deneuve and Chiara Mastroianni. The Brittany-born director will headline a special focus on the region as well as a retrospective of his work, including My Mother (Ma Mère) and Love Songs (Chansons d'Amour).
Two animation hits A Cat In Paris (Une vie de chat) and Titeuf (in part made with input by Bob Last's Dundee-based Ink Digital) will figure alongside a selection of documentaries, among them Think Global, Act Rural (Solutions locale pour un désordre global) by Coline Serreau, who expects to be in attendance to debate her ecological concerns. The shorts selection is headed by the acclaimed Tremblay-en-France, featuring Scots actor Jamies Sives in an unusual role.
Festival director Richard Mowe said: "We feel it is going to be a vintage year for the French Film Festival UK which augurs well for 2012 when we will celebrate two decades of bringing the crême de la crême of French-language cinema to these shores. We hope these appetisers will whet our audience's taste buds for the full menu in November and a veritable feast the following year."
The FFF UK will screen in London, Edinburgh, Glasgow, Birmingham, Manchester, Warwick plus Aberdeen, Dundee, Inverness, Stirling, Dumfries and for the first time Bo'ness (at the recently restored Hippodrome).
The full programme will be unveiled at the beginning of September and we'll be bringing you full details then.
For more information about the festival, visit the official site.
Watch the Romantics Anonymous trailer...


Share this with others on...