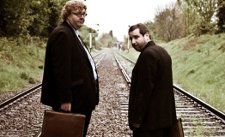 Skeletons won the Michael Powell Award
The Edinburgh Film Festival announced its feature film award winners tonight.
Director Nick Whitfield's Skeletons - concerning a two-man emotional exterminator team - won the Michael Powell Award for Best New British Feature Film, with special mention also going to Rory and Edward McHenry's Jackboots On Whitehall.
The Jury citation read: "The Michael Powell Jury, having considered the 11 films in competition for the Best New British Feature Film, is pleased to announce two unanimous decisions. A Special Mention to Edward and Rory McHenry for their animated revision of modern British history, Jackboots On Whitehall, and the Michael Powell Award goes to writer/director Nick Whitfield whose debut feature Skeletons best exemplifies the spirit of Michael Powell in its original vision and dark humour."
David Thewlis was awarded the PPG Award for Best Performance in a British Feature Film for his full-on performance as IRA man Jim McCann in Mr Nice, which the jury described as "energetic and electrifying".
It was a good night for British filmmaking, as Gareth Edwards was also among the winners, picking up the New Directors Award for creature-feature-cum-road-movie Monsters.
Speaking about the award, the jury said: "The very high standard of the competitors for the Moët New Director's Award made the selection process as difficult as it was pleasurable. There were, for all of the jurors, four stand-out films.
"We would like to give special mentions to Nothing Personal, Son Of Babylon and Winter's Bone. And we give the award, which acknowledges both ability and potential, to Monsters and its maker Gareth Edwards, whose extraordinary talents we confidently expect to see a great deal more of in the years to come."
Ryan Piers Williams' The Dry Land - about a soldier struggling to adjust to normality after returning from Iraq - was named Best International Feature. The director and film's star flew all the way back from LA to collect the prize for their film. The Jury said: "We thought this delicate and emotional film took a subject that could have been predictable and explored it with a refreshing subtlety of characterisation, with universally beautiful performances and with a respect for the audience's intelligence that made it not only a superbly told, gripping and relevant story, but a natural and unanimous winner.
"We'd also like to commend two other films that gave us an enormous amount of pleasure locked, as we were, in dark rooms all day during the longest unbroken stretch of Edinburgh sunshine on record: For transporting us with a magnificent aesthetic flair, for its hypnotic cast and for creating an entirely believable world of monstrously amoral hit men that, despite ourselves, we all wanted to hang out with, we commend the epic landscape of Snowman's Land.
"And for giving us two hours of unbridled snorting laughter with a bucket-load of soppily embarrassing feelgood tears thrown in for good measure, we commend the unalloyed good time that is Barry Munday."
The Feature Documentary award, meanwhile, presented a tough choice for the jurors, who said: "The jury found themselves faced with a difficult choice between two very different but oddly complementary films.
"We would first like to make a special mention: of Sebastian Junger and Tim Hetherington's Restrepo, for its visceral intensity and unflinching honesty. But in recognition of the complexity and subtlety of its storytelling; the brilliance of its conception and execution; and the presence of an authorial voice that is strong without being didactic, the jury awards the EIFF 2010 Best Feature Documentary Award to Laura Poitras for The Oath."
This year's festival audience award went to Aaron Schneider's gentle Tennessee fable Get Low.
The short film awards, which were announced earlier in the week, went to Daniel Mulloy's Baby, Fabio Grassadonia and Antonio Piazza's Rita, Maria's Way, directed by Anne Milne and animation Stanly Pickle, directed by Victoria Mather.
Share this with others on...