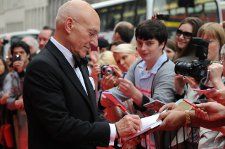 Sir Patrick Stewart signs autographs for fans
The 64th edition of the Edinburgh Film Festival got off to a magical start last night with the UK premiere of Edinburgh-set animation The Illusionist.
Acrobats and musical hall characters greeted guests on the red carpet, including Sir Sean Connery, America Ferrera, Britt Ekland and Sir Patrick Stewart, at the festival's newest venue - the Festival Theatre. The addition of the Theatre to the list of EIFF venues was inspired, with its central location and impressive interior a far-cry from the more utilitarian setting of Cineworld on the outskirts of town, where the opening gala has been held in the past.
Introducing his film - which charts a friendship between a musical hall magician and a young girl from the Scottish islands - director Sylvain Chomet revealed how he fell in love with and moved to the Scottish capital after bringing his previous film, Belleville Rendez-Vous, here in 2003.
Declaring Edinburgh Festival "better than Cannes" - he swiftly won over the audience both with his speech and his film which is, in many ways, a love letter to Scotland that beautifully captures much of the minutae of Edinburgh.
Following the screening, there was a gala party at the city's Teviot House, which continued the 'cabaret' theme.
The festival runs in the city until June 27.
Share this with others on...