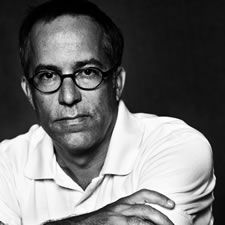 John Cooper, looking a heck of a lot more serious than he does in the flesh Photo: Marcel Hartmann
Sundance Institute has announced that John Cooper will take over the role of festival director recently vacated by Geoffrey Gilmore.
Cooper - who has been working for the festival on the programming side of things for two decades - was an obvious choice to step into Gilmore's shoes, rivalled only in rumour by fellow Sundance veteran Trevor Groth.
Now Gilmore has left for pastures new in an executive role at Tribeca Enterprises, Cooper will take on responsibility for the selection of the festival's slate as well as overseeing the festival's online content and other initiatives.
Cooper joined Sundance Institute in 1989 and has gone on to play a key role in the development of new initiatives. He has shown a proven commitment to pioneering platforms, helping the Institute to expand both its remit and its audiences. Projects he has spearheaded include the development of New Frontier on Main, which aims to showcase artists mixing technology with art and the distribution of short films through iTunes, Netflix and Xbox 360 platforms.
He also led The Sundance Institute Art House Project, a national initiative involving 18 art houses from across the US, which aims to connect more filmmakers with Stateside regional audiences.
Cooper said: "This is a tremendous opportunity not just for me but for the entire programming team.
"Our industry is at a crossroads: innovative technology and global accessibility are making filmmaking wildly creative while, at the same time, traditional funding and distribution models are being challenged. Never has our Festival been more relevant.
"I am honored to accept this position and ready to get to work on shaping the Festival of the future."
Robert Redford says Cooper "brings to the position an infectious enthusiasm as well as a deep understanding of the Sundance brand and culture".
He adds: "Forward thinking, he is a natural choice of succession to lead the Festival into the 21st century."
Share this with others on...