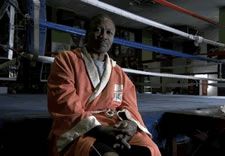 Thriller In Manila is among the UK films competing
Eight UK productions and UK co-productions have made the Sundance 2009 competition line-up.
They will screen at the 25th Festival in Utah, in January.
Rupert Murray - whose controversial film Unknown White Male screened at Sundance in 2005 - will bring his latest documentary The End Of The Line, concerning the devastating effects of over-fishing our oceans.
Also screening in the world documentary section is Kim Longinotto's latest Rough Aunties. Known for her sensitive approach to tough subjects and her exploration, in particular, of issues facing women, her latest film shines a light on a group of women looking after the abused and forgotten children of Durban, South Africa.
John Dower's Thriller In Manila sees Joe Frazier talk for the first time about the fight both in and out of the ring, while Afghanistan/UK coproduction Afghan Star, takes a look at the Pop Idol phenomenon in the beleagured state, where taking part could cost your life.
Charles Bronson biopic, Bronson, directed by Dane Nicolas Winding Refn (Pusher) is among the UK-made films competing in the world dramatic section. Also UK-made (but not helmed) is Five Minutes Of Heaven, an examination of two men's experience of the Irish divide, directed by German Oliver Hirschbiegel (Das Experiment.
Other UK productions in competition include Alexis Dos Santos' Unmade Beds - about two foreigners who find romance in London's East End - and An Education, scripted by Nick Hornby and directed by Lone Scherfig (Wilbur Wants To Kill Himself).
Sundance Film Festival director Geoffrey Gilmore said: "This year's films are not narrowly defined. Instead we have a blurring of genres, a crossing of boundaries: geographic, generational, socio-economic and the like.
"The result is both an exhilarating and emotive Festival in which traditional mythologies are suspended, discoveries are made, and creative storytelling is embraced."
Director of Programming John Cooper added: "Audiences may be surprised by how much emotion this year's films evoke.
"We are seeing the next evolution of the independent film movement where films focus on storytelling with a sense of connection and purpose."
For the 2009 Sundance Film Festival, 118 feature-length films were selected including 87 world premieres, 19 North American premieres, and four U.S. premieres representing 21 countries with 42 first-time filmmakers, including 28 in competition. These films were selected from 3,661 feature-length film submissions composed of 1,905 US and 1,756 international feature-length films.
In addition to the four Competition categories, the Festival presents films in five out-of-competition sections to be announced tomorrow. Watch this space.
Read about all the films in competition for Sundance 2009 - which runs from January 15-25 in Park City, Salt Lake City, Ogden, and Sundance, Utah - here
Share this with others on...