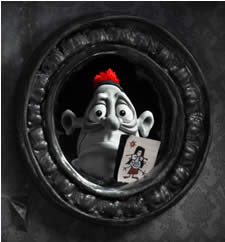 Mary And Max
Claymation Mary And Max has today been announced as the opening night film at the 2009 Sundance Film Festival.
The film, which features the voices of Philip Seymour Hoffman and Toni Collette in the title roles and is narrated by Barry Humphries, is being created by filmmaker Adam Elliot, who won an Academy Award for his short Harvie Krumpet.
The film tells the tale of two unlikely pen pals - Mary, a lonely, eight-year-old girl living in the suburbs of Melbourne, and Max, a 44-year-old, severely obese man living in New York. The story is based on the director's own pen-friendship that has also lasted more than 20 years.
Festival director Geoffrey Gilmore, said: "This portrait of a global friendship between two marvelously dysfunctional people is an exceptionally moving, funny and thought-provoking work.
"Mary and Max is the first film of its kind to open the Festival and we anticipate audiences will embrace Adam Elliot's feature-length directorial debut for its poignant story, exceptional voice talent and technological creativity."
The film is produced by Melanie Coombs, who was also responsible for producing Harvie Krumpet.
Adam said: "By opening night it will have been five years since Melanie and I began working on the film. It has been a whale of a pregnancy and we are so thrilled that the birth will be in Sundance. It is a dream come true to unveil our film in such an honored and nourishing environment."
The entire 2009 Sundance Film Festival program announcement will be made on Wednesday, December 3 and Thursday, December 4 - we'll be bringing you more details then.
Share this with others on...