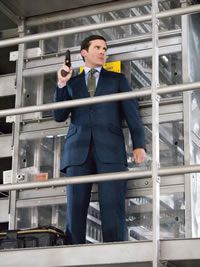 Steve Carell in Get Smart
He's already one of Hollywood's favourite funnymen, but Steve Carell still found time to charm cinemagoers this side of the pond at a recent theatrical screening of his new film Get Smart.
The popular star put in a personal appearance at the Odeon West End in London's Leicester Square on Friday 11 July, alongside fellow cast members Anne Hathaway and Dwayne 'The Rock' Johnson, as well as director Peter Segal.
Speaking before the start of the screening, the affable actor revealed he'd had a blast making the movie. "We really had a lot of fun doing this…" he said, before someone's mobile phone suddenly rang (oh, the shame). "TURN YOUR PHONE OFF!" Carell barked playfully. "Have you never been to the theatre before?"
With the phone swiftly silenced, he carried on in typically deadpan fashion: "We had a great time doing it – not that you care, but we really did."
Hathaway was equally complimentary about her co-stars, even saying to Carell: "I wish I had a secret to tell about you – but you're just lovely."
However, the glamorous actress was not quite so smart when she indirectly revealed one plot twist by referring to a scene that then didn't appear until near the end of the film. Her comment certainly enabled this reviewer to work out whodunit (although in true secret-agent style, I'll keep that information classified).
Share this with others on...