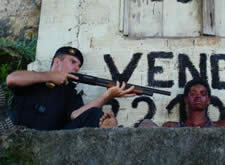 Elite Squad wins Golden Bear
A Brazilian film has won the Golden Bear at this year's Berlin Film Festival.
The top award at the 58th edition of the festival has gone to Trope De Elite (The Elite Squad), a film about indiscriminate police violence in Rio de Janeiro, that has sparked controversy in its homeland.
Jose Padilha's movie - which claims to be based on the true stories of ex-officers from Rio's Special Operations Police Batallion - faced an unsuccessful bid by some police officers to keep it out of Brazilian cinemas at the time of its release.
Accepting the award on Saturday night, the film's producer Marcos Prado said the award "gives us the strength to go forward".
UK Actress Sally Hawkins, 31, scooped a Silver Bear for best actress, for her role in Mike Leigh's Happy-Go-Lucky.
Paul Thomas Anderson continued to court success for his drama There Will Be Blood, which won a Silver Bear for directing and for Jonny Greenwood's music.
Among the other winners were Errol Morris, who took the Jury Grand Prize for Standard Operating Procedure - a documentary about abuse at Abu Ghraib prison in Iraq - and Iranian Reza Naji won the Best Actor Silver Bear for his role as a man struggling to make ends meet in Majid Majidi's The Song Of Sparrows.
The Silver Bear for best script went to Chinese director/writer Wang Xiaoshuai for In Love We Trust, while the Alfred Bauer pize for innovation in filmmaking went to Me Lake Tahoe, directed by Mexican filmmaker Fernando Eimbcke.
The winners were selected from the 21 films in competition.
Share this with others on...