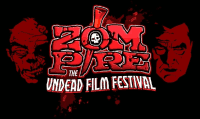 Between the 11th and 12th of May 2007, the Hollywood Theatre in Portland, Oregon makes way for a crowd of unusual visitors.
After a year in the grave, Zompire has returned to please a legion of fans. Created by HP Lovecraft film festival founder Andrew Migliore, its remit is to introduce innovative cinematic takes on the undead genre, with zombies, ghouls and vampires all getting a slice of the action. It also has time for some old fan favourites, with cult classic The Lost Boys getting a prime slot on Saturday night.
Most of Zompire's schedule is dedicated to short films, and it marks an important opportunity for beginner horror directors to get their work out there, though there's also material from established stars such as Nick Frost and Simon Pegg. This year, one of the major themes is the difficulty which the undead may experience in forming meaningful relationships, with romance films including Lesbian Vampire Lovers Of Lust and Why Must I Be A Zombie In Love? There's also a historical angle highlighted by Confederate Zombie Massacre.
At just ten dollars a night for hours of gory viewing pleasure, Zompire is one of the cheapest and most accessible film festivals around. Already attracting a cult following, it looks set to grow and grow.
Share this with others on...