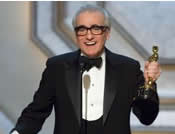 Scorsese finally gets to grips with Oscar All images Copyright © A.M.P.A.S.
At this year's Academy Awards, the feelgood factor triumphs in spades. Firstly the big awards. It maybe wasn't his best ever picture. But by common consensus he is considered one of the greatest living directors working in cinema today.
What if he hasn't got the gong this year? What if he goes home, after being nominated seven times and never wining, empty-handed again? The thought is almost too much - he's 64 for goodness sake - he could, heaven forbid, drop dead tomorrow . . .
The standing ovation as Martin Scorsese's name is announced is instant and heartfelt. After so many near misses, he finally gets to the make the acceptance speech.
"Could you double-check the envelope?" he quips. Scorsese reads his thank-yous for crime thriller The Departed. He keeps it witty and brief, but you can see how much an acknowledgement from Scorsese - finally honoured for Best Film and Best Director - means to someone like Leonardo DiCaprio as the cameras pan to the younger man's face.
Britain acquits itself honourably, not just in the number of nominations, but in the charming, humble and eloquent speech by Helen Mirren, in recognition of her role as Britain's reigning monarch.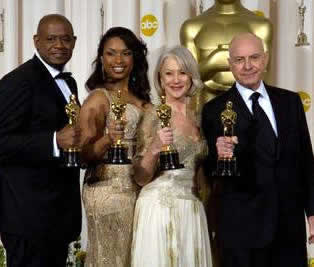 Forest Whittaker, Jennifer Hudson, Helen Mirren and Alan Arkin, show off the latest additions to their trophy cabinets
She says: "My sister told me that all kids get gold stars and this is the largest and best gold star I've ever had." She adds that she wants to share 'her gold star' with her fellow nominees, before offering a tribute to the lady her character is based on:
"For 50 years and more, Elizabeth Windsor has maintained her dignity, her sense of duty and her hairstyle. She's had her feet planted firmly on the ground, her hat on her head, her handbag on her arm, and she's weathered many, many storms. I salute her courage and consistency, and I thank her - if it wasn't for her I most certainly would not be here. Ladies and Gentlemen, I give you," (raising the statuette), "The Queen."
Forest Whitaker, winning Best Actor for his performance as Idi Amin in The Last King of Scotland, comes to the stage and admits: "I wrote something down cos I thought I might be overwhelmed - and I am." But the rest of the speech is not bad and his wife, in the audience, cries beautifully - a single tear running down her cheek.
Less convincing is Jennifer Hudson, very emotional over her predicted win for Dreamgirls, and slightly out of control in one of those thank-you-God speeches.
Al Gore is uncharacteristically entertaining. He does a short presenter double act with fellow environmentalist DiCaprio.
Leonardo keeps pressing him: "Do you have any other announcement to make on this grand occasion?" After getting out of the question - which obviously refers to the possibility of him standing again for President - he eventually starts to make an announcement. We wait with baited breath, only for him to be drowned out by the end-of-speech music.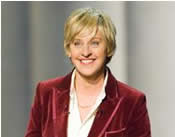 Host DeGeneres was a hit
Host Ellen DeGeneres is a great hit, avoiding the politicisation of left and right that has been a feature of many Awards nights.
DeGeneres - openly gay herself - says: "If there weren't blacks, Jews and gays, there wouldn't be any Oscars."
Her act includes asides and cameos as she walks through the audience, offering Scorsese a 'script', getting her photo taken with the stars, or nearly hoovering up dresses in the front row as she does some vacuuming.
Awards are evenly spread. In addition to Scorsese's gongs,The Departed also wins Best Adapted Screenplay and Best Editing.
Mexican film, Pan's Labyrinth claims three awards; and Dreamgirls, Little Miss Sunshine and An Inconvenient Truth all get two each.
This year's Oscars have a greater feelgood factor than for many a year. The non-partisan environmental issues are something everyone rallies round (even the organisers) and there is a rare sense of Hollywood contributing something worthwhile beyond entertainment. Let's hope the warm optimism lasts.
We'll be bringing you the lowdown on the fashion highs and lows soon.
But without further ado, the winners (and losers) are:
BEST PICTURE
Babel
Winner: The Departed
Letters from Iwo Jima
Little Miss Sunshine
The Queen

BEST DIRECTOR
Clint Eastwood - Letters From Iwo Jima
Stephen Frears - The Queen
Alejandro Gonzalez Innaritu - Babel
Paul Greengrass - United 93
Winner: Martin Scorsese - The Departed

BEST ACTOR
Leonardo DiCaprio - Blood Diamond
Ryan Gosling - Half Nelson
Peter O'Toole - Venus
Will Smith - The Pursuit of Happyness
Winner: Forest Whitaker - The Last King of Scotland

BEST ACTRESS
Penelope Cruz - Volver
Judi Dench - Notes On A Scandal
Winner: Helen Mirren - The Queen
Meryl Streep - The Devil Wears Prada
Kate Winslet - Little Children

BEST ACTOR IN A SUPPORTING ROLE
Winner: Alan Arkin - Little Miss Sunshine
Jackie Earle Haley - Little Children
Djimon Hounsou - Blood Diamond
Eddie Murphy - Dreamgirls
Mark Wahlberg - The Departed

BEST ACTRESS IN A SUPPORTING ROLE
Adriana Barraza - Babel
Cate Blanchett - Notes On A Scandal
Abigail Breslin - Little Miss Sunshine
Winner: Jennifer Hudson - Dreamgirls
Rinko Kikuchi - Babel

BEST FOREIGN LANGUAGE FILM
Denmark - After The Wedding
Algeria - Days Of Glory
Winner: Germany - The Lives Of Others
Mexico - Pan's Labyrinth
Canada - Water

BEST ANIMATED FEATURE
Cars - John Lasseter
Winner: Happy Feet - George Miller
Monster House - Gil Kenan

ART DIRECTION
Dreamgirls - John Mayer, Nancy Haigh
The Good Shepherd - Jeannie Oppewaal, Gretchen Rau, Leslie E. Rollins
Winner: Pan's Labyrinth - Eugenio Caballero, Pilar Revuelta
Pirates of the Caribbean: Dead Man's Chest - Rick Heinrichs, Cheryl A Carasik
The Prestige - Nathan Crowley, Julie Ochipinti

CINEMATOGRAPHY
The Black Dahlia - Vilmos Zsigmond
Children Of Men - Emmanuel Lubeski
The Illusionist - Dick Pope
Winner: Pan's Labyrinth - Guillermo Navarro
The Prestige - Wally Pfister

COSTUME DESIGN
Curse of the Golden Flower - Yee Chung Man
The Devil Wears Prada - Patricia Field
Dreamgirls - Sharen Davis
Winner: Marie Antoinette - Milena Canonero
The Queen - Consolata Boyle

DOCUMENTARY FEATURE
Deliver us from Evil
Winner: An Inconvenient Truth
Iraq in Fragments
Jesus Camp
My Country, My Country

EDITING
Babel - Stephen Mirrione, Douglas Crise
Blood Diamond - Steven Rosenblum
Children of Men - Alex Rodriguez, Alfonso Cuaron
Winner: The Departed - Thelma Schoonmaker
United 93 - Clare Douglas, Christopher Rouse, Richard Pearson

MAKEUP Apocalypto - Aldo Signoretti, Vittorio Sodano
Click - Kazuhiro Tsuji and Bill Corso
Winner: Pan's Labyrinth - David Marti and Montse Ribe

MUSIC - ORIGINAL SCORE
Winner: Gustavo Santaolalla - Babel
Thomas Newman - The Good German
Philip Glass - Notes on a Scandal
Javier Navarette - Pan's Labyrinth
Alexandre Desplat - The Queen

MUSIC - ORIGINAL SONG
Winner: "I need to Wake up" - An Inconvenient Truth
"Listen" - Dreamgirls
"Love You I Do" - Dreamgirls
"Our Town" - Cars
"Patience" - Dreamgirls

SOUND EDITING
Apocalypto - Sean McCormack, Kami Asgar
Blood Diamond - Lon Bender
Flags of Our Fathers - Alan Robert Murray, Bub Asman
Winner: Letters from Iwo Jima - Alan Robert Murray
Pirates of the Caribbean: Dead Man's Chest - Christopher Boyes, George Watters II

SOUND MIXING
Apocalypto - Kevin O' Connell, Greg P. Russell, Fernando Camara
Blood Diamond - Andy Nelson, Anna Behlmer, Ivan Sharrock
Winner: Dreamgirls - Michael Minkler, Bob Beemer, Willie Burton
Flags Of Our Fathers - John Reitz, Dave Campbell, Gregg Rudloff, Walt Martin
Pirates of the Caribbean: Dead Man's Chest - Paul Massey, Christopher Boyes, Lee Orloff

VISUAL EFFECTS
Winner: Pirates of the Caribbean: Dead Man's Chest - John Knoll, Hal Hickel, Charles Gibson, Allen Hall
Poseidon - Boyd Shermis, Kim Libreri, Chaz Jarrett, John Frazier
Superman Returns - Mark Stetson, Neil Corbould, Richard R. Hoover, Jon Thum

BEST WRITING - ADAPTED SCREENPLAY
Borat - Sacha Baron Cohen, Anthony Hines, Peter Baynham, Dan Mazer
Children Of Men - Alfonso Cuaron, Timothy J. Sexton, David Arata, Mark Fergus, Hawk Ostby
Winner: The Departed - William Monahan
Little Children - Todd Field, Tom Perrotta
Notes On A Scandal - Patrick Marber

BEST WRITING - ORIGINAL SCREENPLAY
Babel - Guillermo Arriaga
Letters from Iwo Jima - Iris Yamashita, Paul Haggis
Winner: Little Miss Sunshine - Michael Arndt
Pan's Labyrinth - Guillermo del Toro
The Queen - Peter Morgan

ANIMATED SHORT FILM
Winner: The Danish Poet
Lifted
The Little Matchgirl
Maestro
No Time for Nuts

DOCUMENTARY SHORT SUBJECT
Winner: The Blood of Yingzhou District
Recycled Life
Rehearsing a Dream
Two Hands

LIVE ACTION SHORT FILM
Binta and the Great Idea (Binta y la gran idea)
Eramos Pocos (One Too Many)
Helmer & Son
The Saviour Winner: West Bank Story
Share this with others on...