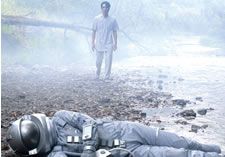 The Clone Returns Home will have its UK premiere
The 8th Sci-Fi London Film Festival runs from April 29 to May 4 at Apollo West End cinema, Regent Street, London.
The festival will open with a screening of Eyeborgs - a fresh sci-fi take on the idea of a surveillance society. Other highlights include the world premiere of The Hunt For Gollum and the UK premieres of Japanese films The Clone Returns Home and Cyborg She.
All-nighters this year are celebrations of Star Trek, anime and Italian horror.
View previous years coverage of the Sci-Fi-London festival:
Sci-Fi Latest Reviews