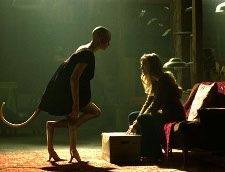 Splice opened the 2010 festival
The 9th Sci-Fi London Film Festival runs from April 28 to May 3 at Apollo Cinema Piccadilly Circus with satellite events taking place at the Curzon Soho, The Royal College of Surgeons, BFI Southbank and Proud Central Gallery.
The festival will open with a screening of controversial genetic horror Splice - starring Adrien Brody - and close with Swiss space thriller Cargo.
All-nighters this year include Manga, Japan, Comedy and Starcraft II. There will also be a sneak preview of Philip K Dick adaptation Radio Free Albemuth.
View previous years coverage of the Sci-Fi-London festival:
Sci-Fi Latest Reviews