Eye For Film >> Movies >> Star Trek II: The Wrath of Khan (1982) Film Review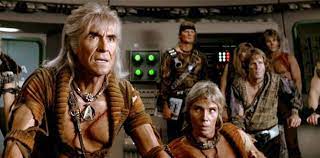 Easily the greatest of the Trek films. Star Trek II: The Wrath of Khan is an enormously satisfying adventure, made with skill and care. It has aged superbly, avoiding the seriousness that made The Motion Picture such a dreary watch, while mixing character, action and strong acting. Thematically, the movie punches above its weight, and deals with actions and inactions of characters having consequences as well as nearly any film I can think of.
In a search for a dead planet on which to test a new matter-reorganising and terraforming device called Genesis, the USS Reliant comes to Ceti Alpha V. Upon investigating a strange signal, several crew members unwittingly help Khan (Ricardo Montelban), a marooned warlord escape a 15-year exile which Captain James T Kirk (William Shatner) placed him under. (The Original Series "Space Seed" episode provides the backstory, but it is not necessary to enjoy the film, as is.) Khan butchers everyone after learning of the Genesis device, and lays a cunning trap for now-Admiral Kirk.
Director Nicholas Meyer's skill in managing his actors has never been more effective, with Khan and Kirk locking horns. Khan's story is a sad one, losing many of his followers and his wife in the wasteland, and ultimately twisting this genetically engineered prince of men into a titanic seething stew of resentment, fierce intelligence and bravado arrogance. Montelban is outstanding, channeling a contemplative and alien intelligence, and a genuinely scary physical and tactical threat for those who stand in his way. Oh, and his physique wasn't faked, Montelban really was that ripped.
Meyer also gets Shatner to cut the ham less thickly than usual - even eliciting something resembling acting. From Kirk's: "I don't like to lose", through triumphant luck with Khan, to the distraught Admiral eulogising his "human" friend - Shatner works his socks off. The story deals with the folly of Kirk's youth. His past has come back to haunt him in the form of a former love, his mortal enemy, and the Oedipus-style murderous son.
In a discussion with a friend, we attempted to define what makes an epic work. They have to deal with large intra-personal and extra-personal conflicts in a fashion that allows their deeper themes sink in over time and subsequent viewings. These are what I believe make Star Trek II: The Wrath of Khan an epic, and Star Wars II: Attack of the Clones not.
The action sequences are smaller scale than I remembered - streams of firepower have never done much other than knock the set around a bit and make circuit boards explode on cue - but the characters and their motivations pre and post-conflict are marvellous. Khan and Kirk's words and suspenseful scheming are more effective than direct action.
The smaller budget is used cleverly, in a far more cinematic fashion than The Motion Picture, in spite of recycling pieces of footage from it. In addition, far more care was taken with their impressive motion control Industrial Light and Magic visual effects, fresh from The Empire Strikes Back. The visual effects are superb, with the beautiful Mutara Nebula plates reused in further television adventures. It also unveiled the CG revolution in the Genesis planet terraforming simulation - Pixar's first work.
In one of James Horner's great scores, he establishes excellent leitmotif themes for each major character and overlays further music for superior emotional impact. In as much as he has copied his own work into redundancy over the years, this time it works brilliantly. It compliments Jerry Goldsmith's work in The Motion Picture very well, a classical work of romanticism, and a score that sorely required a better picture to go with it.
Ultimately, The Wrath of Khan is a bit of a sci-fi movie classic, and like First Contact 15 years later, it forges an inviting script for those who are dubious about Trek in the first place can enjoy in and of itself. That and they share killer Moby Dick quotations.
Reviewed on: 04 Apr 2009
Share this with others on...