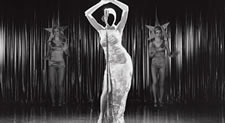 La Antena was a festival highlight
The 7th Sci-Fi London Film Festival ran from April 30 to May 4 at Apollo West End cinema, Regent Street, London.
The festival opened with the UK premiere of Marc Caro's Dante 01, from the co-creator of The City Of Lost Children and Delicatessen. The action wrapped up with the World Premiere of Chemical Wedding (written by Iron Maiden's Bruce Dickinson and Julian Doyle (who also directs).
Other highlights included Argentinian dystopian fairytale The Aerial and the UK premieres of anime Appleseed: Ex Machina and French sci-fi thriller Chrysalis.
View previous years coverage of the Sci-Fi-London festival:
Sci-Fi Latest Reviews