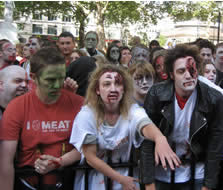 Undead were out in force for the Zombie Walk
Photo: Anton Bitel
Blood, gore, haunted houses, grisly graveyards and things that go bump in the night - yes, it's time for another Frightfest. After eight years, the UK's leading festival of dark fantasy and horror film has got it down to a fine art.
Frightfest 2007 will be running in the London's Odeon West End between August 23 and 27. As always, it features a diverse range of films from around the world, exploring all aspects of the genre, from the teen terror of All The Boys Love Mandy Lane and Disturbia to the creepy psycho-thrills of Mr Brooks. There will also be a guest appearance by 1408 director Mikael Håfström, with the opportunity for attendees to ask him questions about his work, and the final day will see a massive zombie march across London which anybody can join in for free.
Full passes to Frightfest cost £140, with individual films priced at £10.
View previous years coverage of the FrightFest festival:
Frightfest Latest Reviews