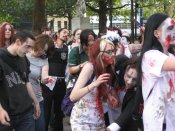 Bright and early on the morning of Monday, August 27, 2007, Londoners will bear witness to a mass invasion of shuffling, blank-eyed zombies.
Not the denizens of the business sector heading in for the daily grind - as this is a Bank Holiday. And not the sleepless, traumatised folk attending the Film4 Frightfest long weekend horror festival, although you may see some of them blending right in. Nope, this is an attempt to break the world record for the largest zombie gathering ever recorded.
The last such undead assembly took place on the October 29, 2006. The setting was Pittsburgh, home to the undisputed king of zombie movies George A Romero - and more particularly the Monroeville Mall, where his original Dawn of the Dead (1977) was shot.
There, 894 people, dressed in full zombie make-up, gathered to strut their stuff and relive the gory glory days when zombies were still lumbering deadheads whose murderous efficacy was determined more by numbers than speed.
Now, of course, things have moved on. Today's zombies tend to be fleeter of foot, flush with the anxieties of the post-9/11 world, and as likely to reside in London as in Pittsburgh - at least, that is, if the recent British films 28 Days Later..., Shaun of the Dead, 28 Weeks Later and The Zombie Diaries are anything to judge by.
So this London event, timed to coincide with the DVD release of The Zombie Diaries, hopes to get more than 1000 flesh-hungry ghouls in attendance, if only to prove that when it comes to all-consuming apocalypses, we'll be every bit as deep in the shit as our friends across the Atlantic.
The event kicks off at 9.30am in Leicester Square, and will be followed by an 11am preview screening of The Zombie Diaries at Frightfest. For more details, go to www.thezombiediaries.co.uk - and of course, Eye for Film will be on hand to photograph the end of the world.
Share this with others on...