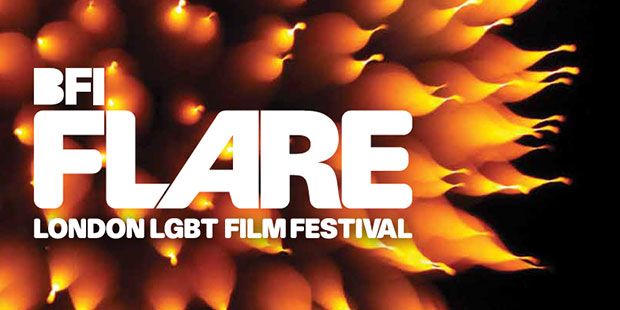 View other Flare Films by strand: Hearts, Minds, Special Presentations, Winks and Nudges
1:54
(Country: Canada; Year: 2016; Director: Yan England; Writer: Yan England; Stars: Antoine-Olivier Pilon, Sophie Nélisse, David Boutin)
High school bullying gets dangerously out of control.
Below Her Mouth
(Country: Canada; Year: 2016; Director: April Mullen; Writer: Stephanie Fabrizi; Stars: Daniela Barbosa, Elise Bauman, Sophie Blumenthal)
Two women embark on a passionate affair that derails their lives.
Body Electric ( Corpo Elétrico)
(Country: Brazil; Year: 2017; Director: Marcelo Caetano; Writer: Marcelo Caetano; Stars: Kelner Macedo, Lucas Andrade, Welket Bungué)
A young deputy manager in a garment factory is drawn into socialising with his workers despite being warned that it could lead to trouble.
Don't Call Me Son (Mãe Só Há Uma)
(Country: Brazil; Year: 2016; Director: Anna Muylaert; Writer: Anna Muylaert; Stars: Naomi Nero, Daniel Botelho, Dani Nefusi)
Gender fluid teen Pierre becomes the focus of a shocking family secret on a journey of displacement and discovery.
FTWTF: Female To What The Fuck
(Country: Austria; Year: 2015; Director: Katharina Lampert, Cordula Thym)
A documentary about trans people with a particular focus on non-binary people.
The Handmaiden (Agassi)
(Country: South Korea; Year: 2016; Director: Park Chan-wook; Writer: Based on Sarah Waters' Fingersmith; Stars: Ha Jung-woo, Kim Min-hee, Jo Jin-woong, Kim Tae Ri)
A handmaiden sets out to swindle an heiress but things don't go to plan.
It's Only The End Of The World (Juste la fin du monde)
(Country: Canada, France; Year: 2016; Director: Xavier Dolan; Writer: Xavier Dolan, Jean-Luc Lagarce; Stars: Léa Seydoux, Marion Cotillard, Vincent Cassel, Gaspard Ulliel, Nathalie Baye)
A writer returns home after a long absence to tell his family he is terminally ill.
Jesus
(Country: Chile; Year: 2016; Director: Fernando Guzzoni; Writer: Fernando Guzzoni; Stars: Nicolás Durán, Alejandro Goic)
Jesús, 18, lives alone with his father Hector in a flat where the TV covers up their inability to communicate. One night, his thrill-seeking goes too far.
Memories Of A Penitent Heart
(Country: US, Puerto Rico; Year: 2015; Director: Cecilia Aldarondo)
Like many gay men in the 1980s, Miguel moved from Puerto Rico to New York City; he found a career in theater and a rewarding relationship. Yet, on his deathbed he grappled to reconcile his homosexuality with his Catholic upbringing. Now, decades after his death, his niece Cecilia locates Miguel's estranged lover to understand the truth, and in the process opens up long-dormant family secrets.
Miles
(Country: US; Year: 2016; Director: Nathan Adloff; Writer: Nathan Adloff, Justin DM Palmer; Stars: Tim Boardman, Molly Shannon, Stephen Root)
In a desperate bid to get the college scholarship he needs, a teenage boy joins the girls' volleyball team.
The Ornithologist (O Ornitólogo)
(Country: Portugal, France, Brazil; Year: 2016; Director: João Pedro Rodrigues; Writer: João Pedro Rodrigues, João Rui Guerra da Mata; Stars: Paul Hamy, Xelo Cagiao, João Pedro Rodrigues, Han Wen, Chan Suan, Juliane Elting )
An ornithologist searching for black storks is swept away by rapids and awakens in a mysterious, dark forest.
The Pearl Of Africa
(Country: Sweden; Year: 2016; Director: Jonny von Wallström; Stars: Cleopatra Kambugu)
A documentary about Cleopatra Kambugu, the first out trans woman in modern Uganda, and her journey to Thailand for life-changing surgery.
Pushing Dead
(Country: US; Year: 2016; Director: Tom E Brown; Stars: James Roday, Danny Glover, Robin Weigert, Tom Riley)
A black comedy about a deadbeat HIV-positive writer struggling with his medication, his life and his friends.
Raising Zoey
(Country: US; Year: 2016; Director: Dante Alencastre)
A documentary about a trans Latina girl and what family support achieves for her.
Seat In Shadow
(Year: 2016; Director: Henry Coombes; Writer: Henry Coombes, David Sillars; Stars: David Sillars, Jonathan Leslie, Lee Partridge, Henry Coombes)
A painter who doubles as a psychotherapist tries to help a young man battling depression.
The Trans List
(Country: US; Year: 2016; Director: Timothy Greenfield-Sanders; Stars: Caitlyn Jenner, Laverne Cox, Buck Angel)
A celebration of successful trans celebrities.
The Untamed (La región salvaje)
(Country: Mexico, Denmark, France, Germany, Norway, Switzerland; Year: 2016; Director: Amat Escalante; Writer: Amat Escalante, Gibrán Portela; Stars: Kenny Johnston)
A mysterious young woman is convinced that something otherworldly could be the answer to all of her family's problems.