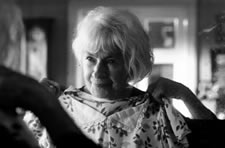 Danuta Szaflarska stars in Time To Die
Previously running in July, the Cambridge Film Festival has made the move to September this year. In celebration of the move - and in a marked act of bravery considering the weather this summer - there will be a series of outdoor screenings throughout the city. This means that in addition to more traditional venues such as Arts Picture House and The Junction, screenings will also be taking place at Magdalene Street, the Institute Of Astronomy and the banks of the Cam.
Strands this year include a section dedicated to Polish cinema - including the brutally honest Time To Die - plus Derek Jarman and Boris Karloff retrospectives. There is also a strand of events dedicated to the art of machinima: Game Set And Machinima.
View Films by Strand:
View previous years coverage of the Cambridge Film Festival festival:
CFF Latest Reviews
Cambridge Film Festival Features