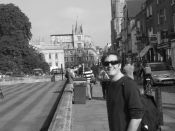 Our intrepid reporter arrives...
When I was asked by a work colleague Thursday night if I wanted to go see his band play in Oxford my initial answer should have been 'no' given I'd got an early start the next day. Sadly will-power and the ability to decline a social invitation always escapes me so when I woke up early Friday morning jaded and with the prospect of a three-hour bus journey to Cambridge staring me in the face I must admit to having some regret towards my previous evenings choice of entertainment.
With that said nothing could deter my anticipation and excitement about heading to Cambridge for the 28th Cambridge film festival. For one I'd never been to Cambridge before and secondly I hadn't realised they even had a film festival which after further investigation is regarded by some as quite the prestigious event.
Arriving in Cambridge early Friday afternoon to weather that could be described as our 'Indian summer' weekend – yes it was that warm, I was pleased I'd made the journey.
This year I found myself drawn to a line-up of very quirky offerings which strangely enough seemed to have a similar theme being love and romance but from an independent perspective. I happened to choose the final weekend of the festival and as the weekend drew to a close I must say I think I'd chosen the best two days to attend.
I spent most of the time at the Phoenix Arts Centre – located right in the heart of Cambridge. Stepping through the doorway you sensed the feeling that a film festival was in full swing. The hustle and bustle of people filtering in and out of screenings, talking incessantly about the movies they'd seen and flyers and posters were scattered everywhere promoting films being showcased.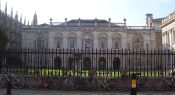 It's great to see places like the Phoenix Arts Centre still exist these days and I couldn't think of a better place to have a festival – the cinema has so much character to it and the place felt like it lived and breathed films, unlike bigger multiplexes that appear soulless to me.
The first film I caught was Good Dick, a Sundance film festival favourite which appeared to go down well with the audience. The big Friday treat was the evening UK premiere of How To Lose Friends And Alienate People starring Simon Pegg which had the extra draw of having a Q&A after the screening with writer and co-producer Toby Young and legendary British producer Stephen Woolley.
Before we headed into the screening I caught a glimpse of Young signing copies of his new book and thought man does he look like Simon Pegg – so in my mind before I had seen a single frame of film thought boy that's good casting.
The film went down terrifically at the screening, it was funny, fast and feel good and definitely will be a British hit, I also happen to think it will transfer over to the American market just as easily upon its release stateside. After the screening we were joined on stage by both Jones and Woolley who were in great spirits, more than happy to share as much information as possible about making the film, raved about Simon Pegg and commented on the state of celebrity and fame and what that meant to them. Toby Young was a blast, I'd read elsewhere that he was arrogant and pompous like the character in the film but here at this screening he came across to me as very likeable, assured but incredibly funny and I could have sat and listened to his tales all night.
Stephen Woolley was also very informative, talking about casting, meeting directors, recalled funny Simon Pegg ad-libbing stories and seemed very relaxed and happy to be at the screening. After this had wrapped I really felt like I'd been at a film festival, I thoroughly enjoyed the film, adored the fact that the people behind it had bothered to appear to tell us all about it and for me it was the icing on the cake for my first day here.
Saturday was the busier day of the two and also the hottest, first up was The Black Balloon an Australian gem of a film which had won lots of awards on the festival circuit. It turned out to be the best film I would see at the festival and from all the films I managed to see the most well received also.
My most disappointing moment at the festival had to be In The City Of Sylvia which I was really looking forward to and I'd hoped would be my favourite film of the festival. Arriving with little of no fanfare this film was suppose to be homage to cinema, painting, women and love but turned out to be a pretentious self indulgent piece of art designed to satisfy its director only. I could certainly relate to being in a strange place and welcomed the possibility of one man wandering the streets aimlessly looking for love but the film had no substance to it whatsoever but it did have some nice photography and was yet again a very typical festival entry. I only wished I'd interviewed people leaving the screen to catch their thoughts on the piece because what would have been more interesting than the actual film itself would be gathering the thoughts of others and gathering their own thoughts and interpretations of it.
The final film I saw at the festival was the Brideshead Revisited which was an advanced preview screening and at the time of booking had advertised a possible Q&A afterwards with members of the cast which most disapprovingly never happened – not even the director showed up apparently he was indisposed. The film itself was okay but I guess a bit of star spotting afterwards would have elevated my experience of this a little – I guess I'll never know if Hayley Atwell looked as lovely in the flesh as she did on the big screen - oh well.
I really enjoyed my time spent at this year's festival and highly recommend checking it out for yourselves, Cambridge as a city was beautiful and having 3 glorious days of sunshine certainly helped swing my opinion even more. The festival itself was well-organised and the programme this year had something to offer everyone. Below are a few highs and lows of my experience during the course of the weekend.
The Highs
The Black Balloon – the best film of the festival, miss it miss out!
How to Lose Friends and Alienate People Q&A – fantastic post film chat with two charming individuals.
Cambridge film festival organisers – when Just Another Love Story was cancelled last minute they replaced it with a French cop thriller called Rivals which upon viewing, our Adam couldn't recommend enough.
The Lows
Having my Dictaphone go off loud in a packed screening for how to Lose Friends screening – cue embarrassment for me and lots of people staring wonder what an earth the noise was!
Brideshead Q&A – having nobody turn up for it to support the film, poor show old chaps!
Q&A generally – it would have been nice for some more film-makers to show up and support their work more during the weekend I chose, call me a sucker for famous people but mostly all the films I saw were excellent and desired to be promoted by somebody involved.
Share this with others on...